I am presenting you today a big big crush: the Aldaia dress by Pauline Alice. I have already made three! I have decided to dedicate one article to each of them as, honestly, they are worth it! 🙂

what is it?
Let's be clear, the Aldaia dress is an amazing pattern! I have been blown up like that for a very long time! Pauline managed to fit 27 dresses in one pattern! How cool is that?!
You can make your own Aldaia by choosing between 3 types of collars, 3 types of sleeves and 3 skirts so in total 27 version to mix and match.
This pattern is a delight to trace and sew. You have several boards which makes it super easy to trace as the pieces are not overlapping. The seam allowances are included (1cm to facilitate the use of an overlock). The instructions are crystal clear.
For the first version, I sewn my favorite version: round neckline, short sleeve and wide skirt. The finishing are especially neat. To have a perfect collar, you have to hand sew a lining inside.
how is it made?
As soon as I saw Aldaia, I could tell that I will sew it with the gorgeous marin jersey fabric from  chez Un chat sur un fil. I hesitated though as I knew that I won't be able to pattern match the stripes which bothered me. The princess seams on the bodice makes pattern matching impossible.
But anyway, I decided to give it a go and I absolutely don't regret it! I think that the un-matching stripes are actually nice and show the shape of the dress.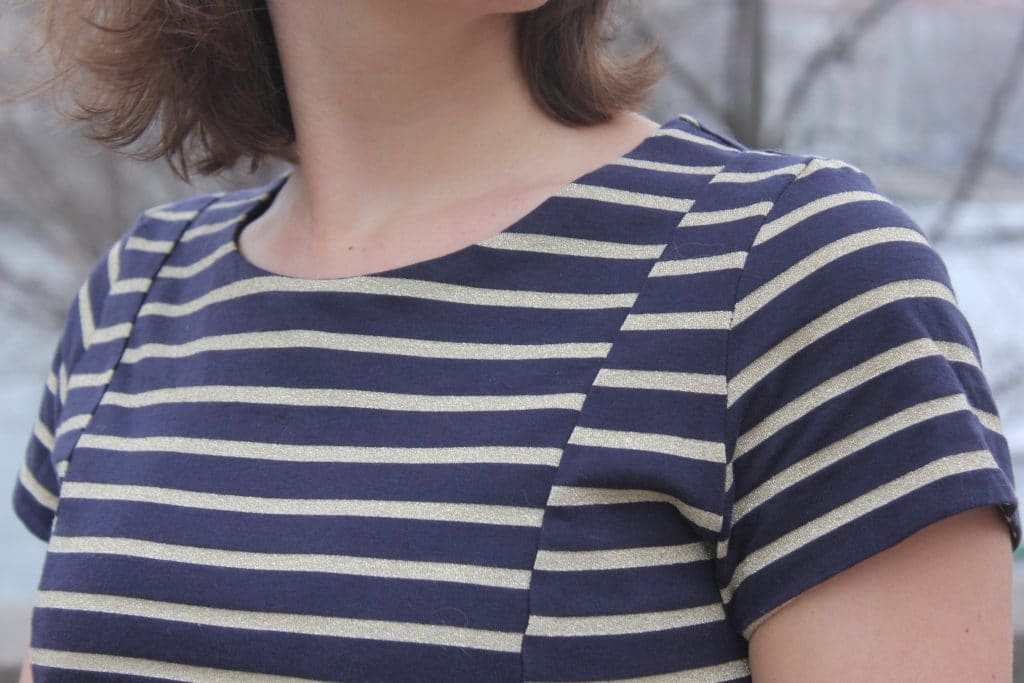 I decided to sew the lining in a viscose jersey knit for two reason : first of all, it is much thinner but also much more soft. The glitter of the stripes would have been itchy if worn directly on the skin.
which size is it?
I have sewn a size 36 at the shoulder increased to a 38 at the waist. The fit is perfect.
is it modified?
Not at all, not even the length.
do you like it?
Well, I have sewn 3 in a very short time so I think that that replies to the question. 🙂
to be sewn again?
Absolutely!
other versions