Discover our first pattern book
(only in French for now)
In the mildness of a winter Sunday, we invite you to take a moment for yourself. Make yourself a coffee or a tea, snuggle up under a blanket and escape with us in a creative bubble. ☕️
With this book, you will discover 4 creative universes. In each, you will find 2 sewing patterns as well as an accessory to sew but also to knit or embroider. We know that creative people are full of ideas and rarely stop at a single creative hobby. We therefore took great pleasure in including a pretty sock pattern and two embroidery designs in this book. You will therefore find a detailed technical notebook at the beginning of the book with all our advice and tips to get you started.
The patterns have been designed to become wardrobe staples: quick and easy to sew. They will accompany you for your days at home to combine comfort and elegance. You can also adapt them to be able to wear them outdoors: the babydoll becomes a tank top in summer, the fluid pants become sports shorts…
As with all our patterns, we have taken particular care with each step-by-step so that they are as didactic as possible. We take you step by step, sharing our tips and tricks to make you feel like we're right next to you.
Welcome to Cozy at home !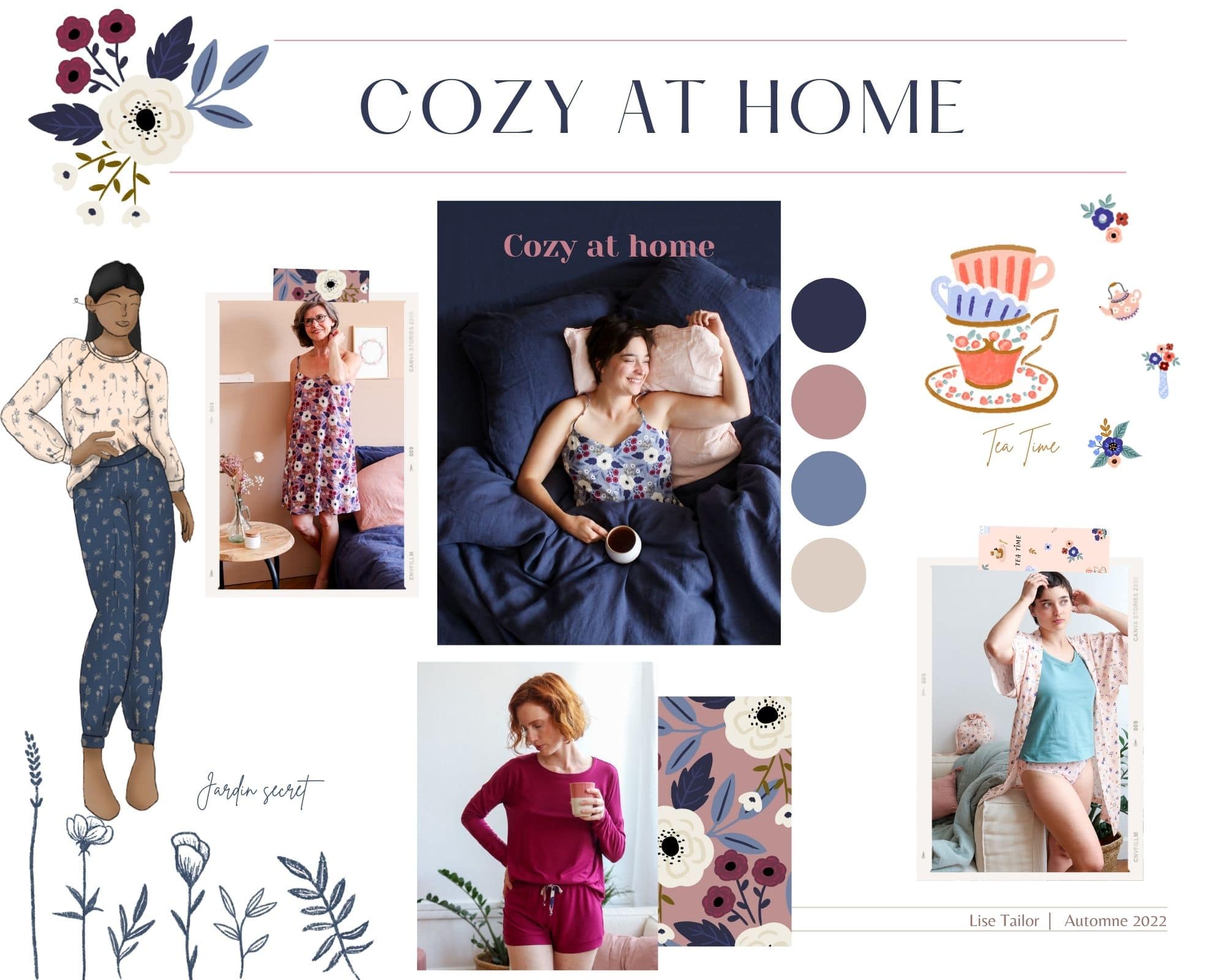 Our collection Cozy at Home : 
Pattern book :
8 Clothing sewing patterns
Sewing accessories
A bit of knitting
A touch of embroidery
New Fabrics :
3 Viscoses
2 French Terry
3 Cotton jerseys
New material: 2 viscose Jerseys
Our little extras
An embroidery kit
An adorable pin and needle holder inspired by our Tea Time design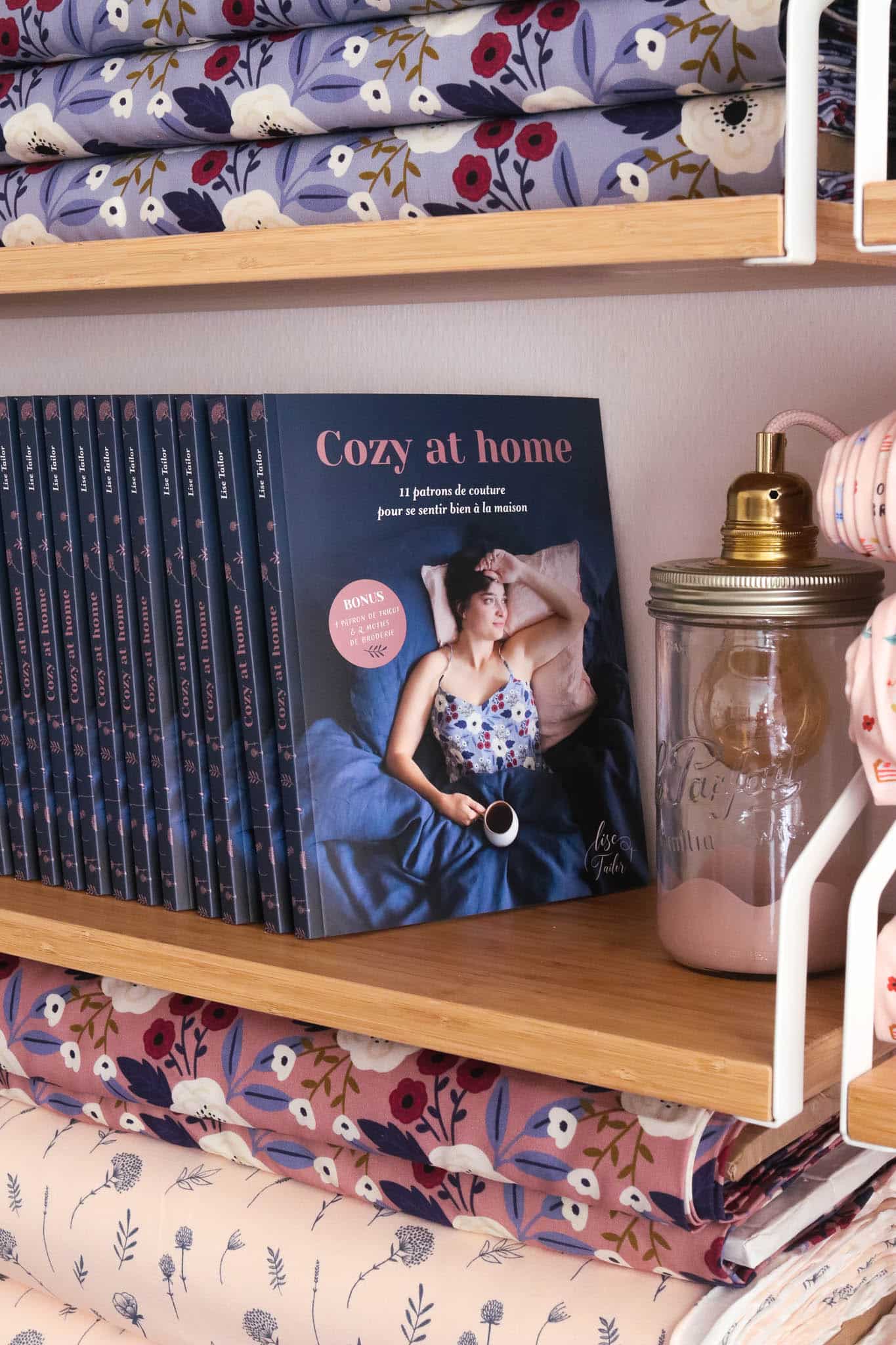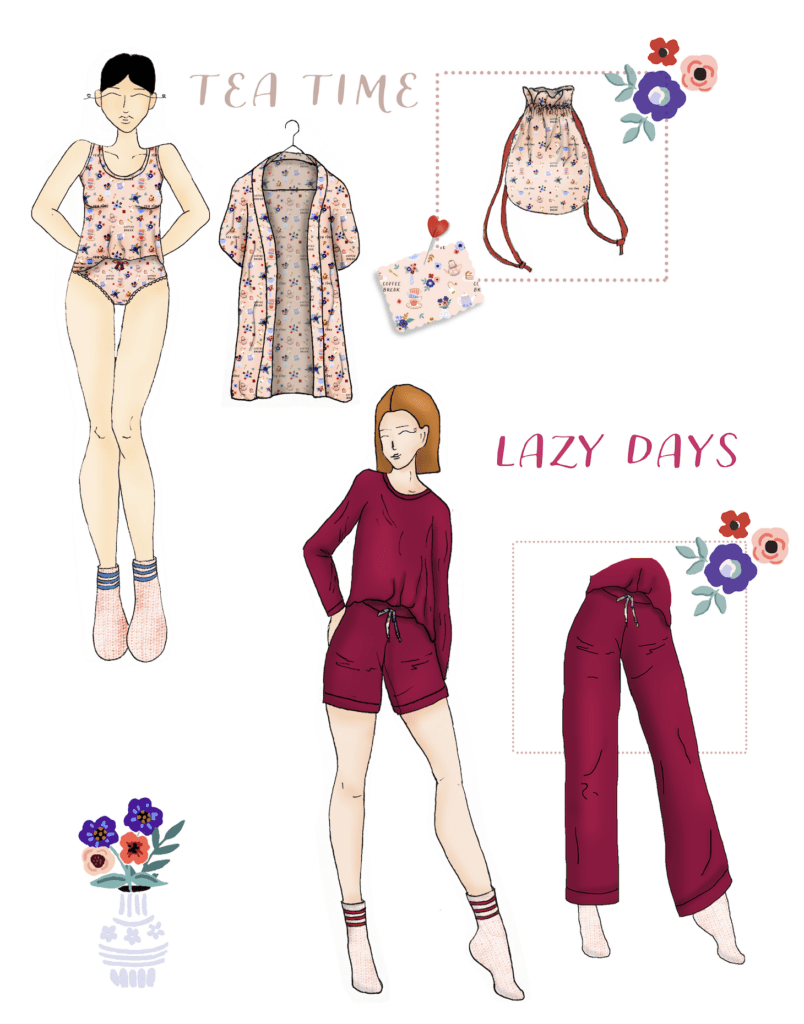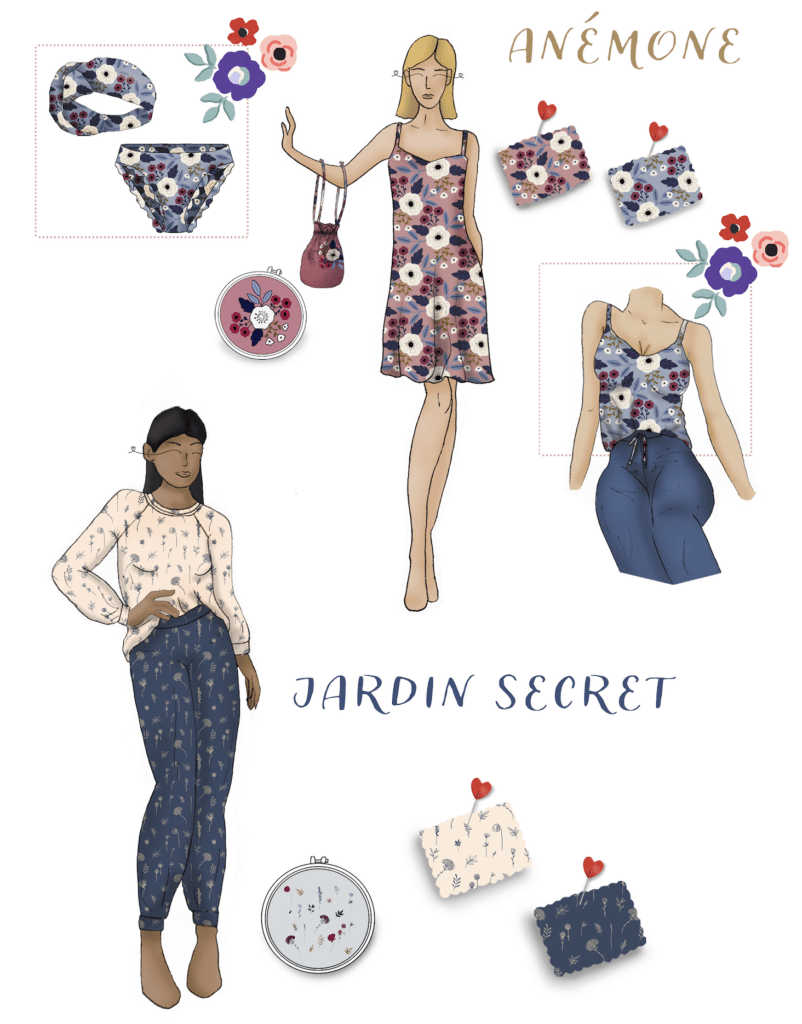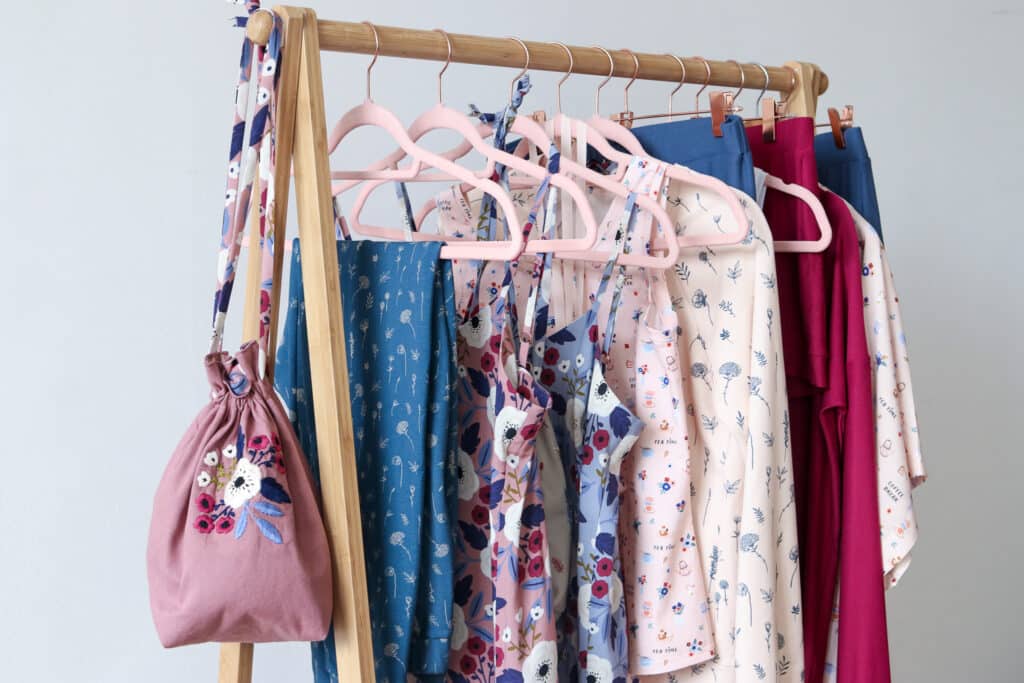 Discover our theme
For this first theme, we invite you to discover the sewing of cotton jersey. It is THE comfort fabric. Soft and stretchy, it follows the curves of the body. For this material, we have designed a tank top & panties set. Two easy and timeless pieces to get you started with serenity your sewing knitwear journey.
Our tank top can easily be worn under a sweater in winter or slipped into a skirt or shorts in summer.
Our little panties will be your best ally for using up your jersey scraps.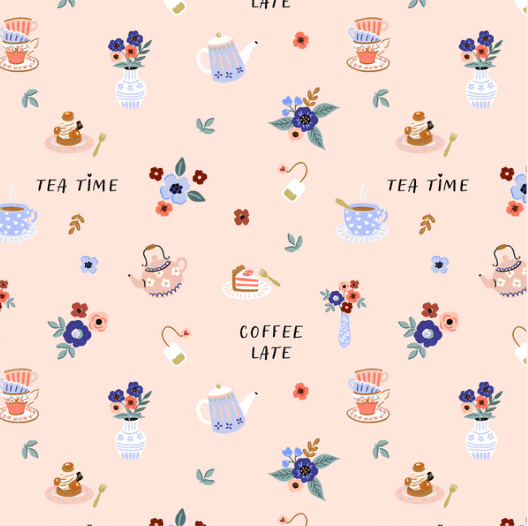 Rather tea time or coffee break? Saint-Honore or cheesecake? In the end, why choose?! For your cocooning moment at home, you are the queen and you decide everything. In our rushed lives, tea or coffee breaks are essential to recharge the batteries, settle down, enjoy a creative break and get back on track.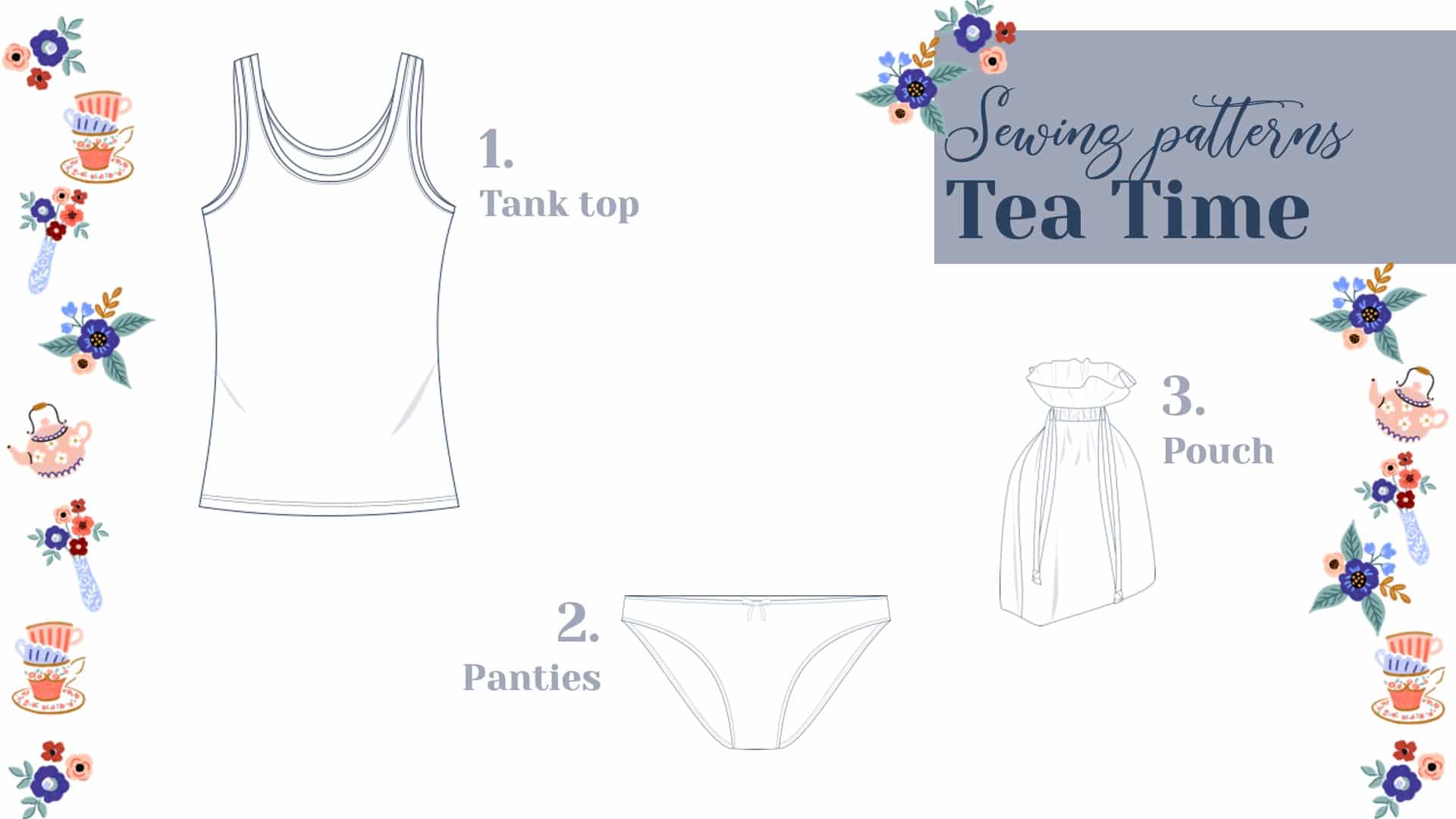 TEA TIME – Viscose ecovero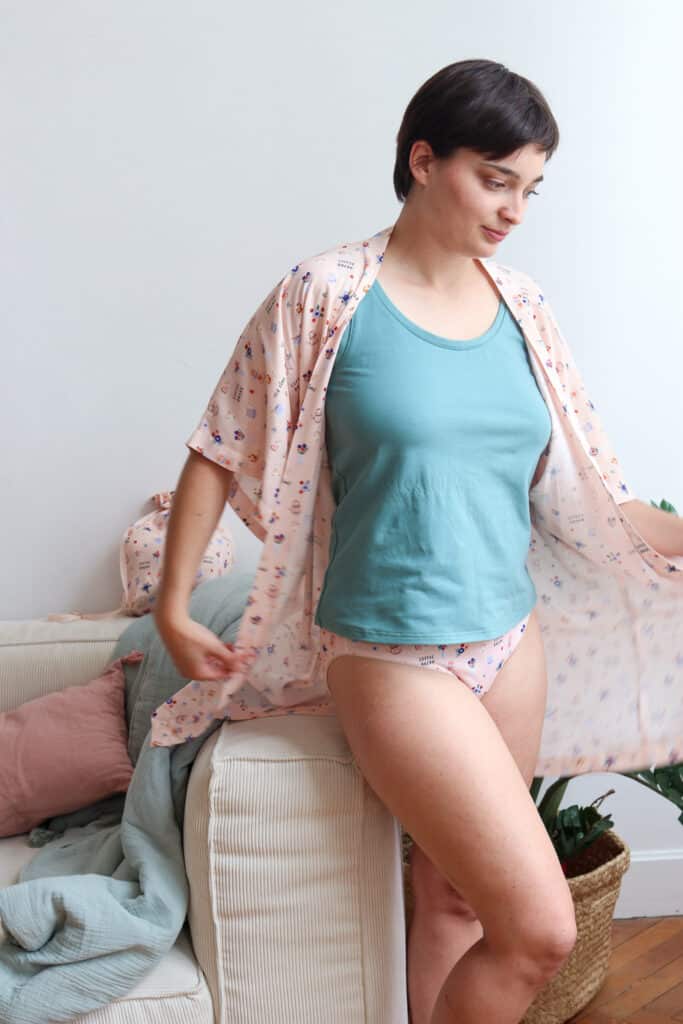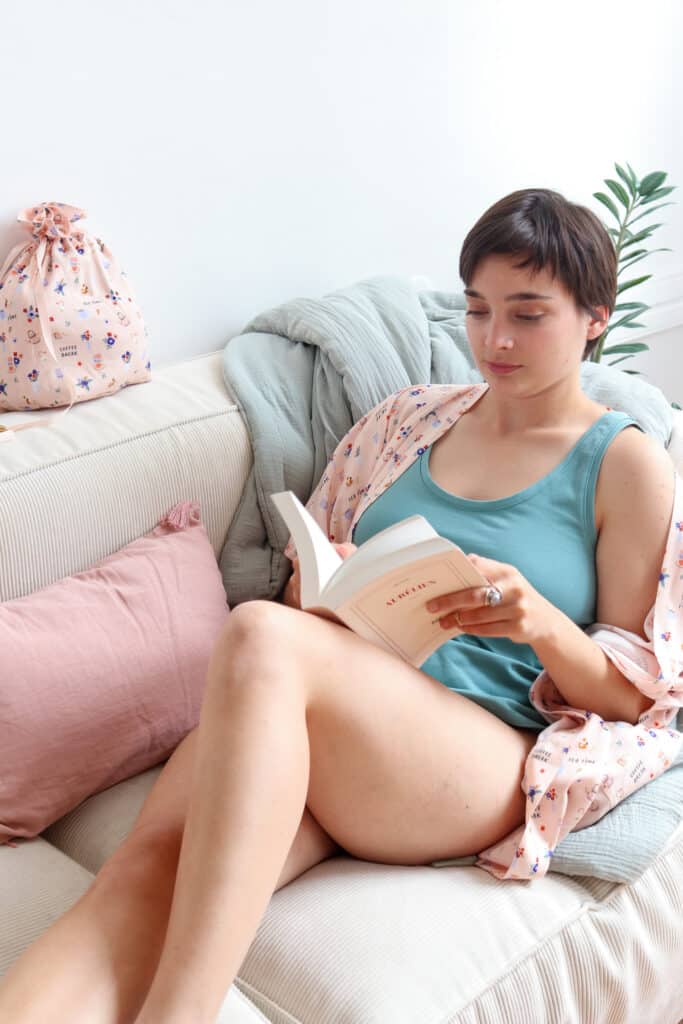 TEA TIME – Cotton Jersey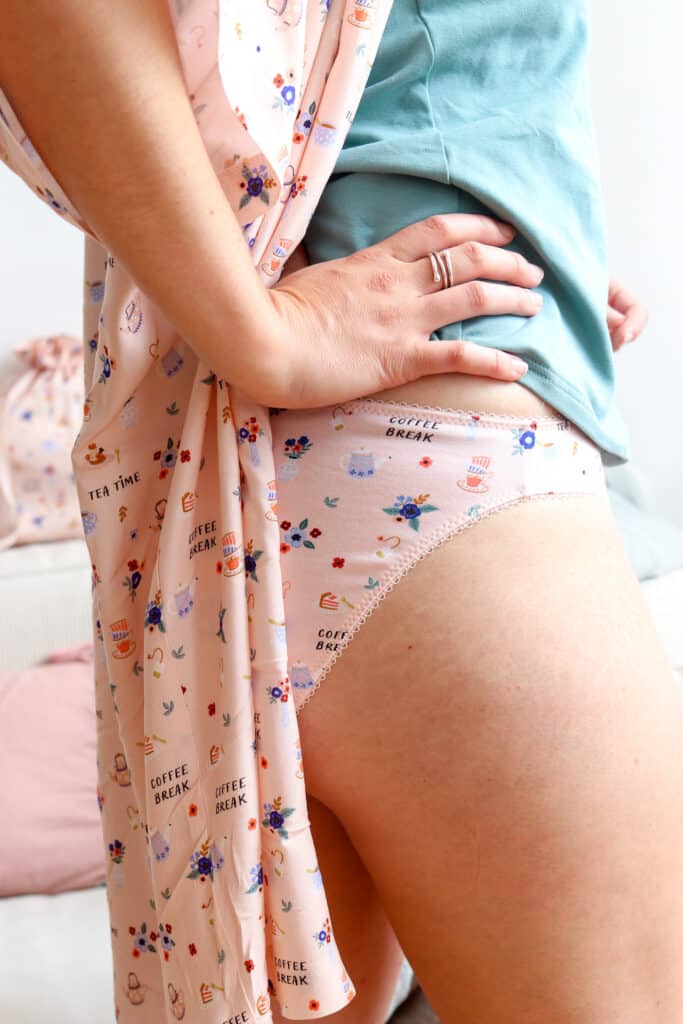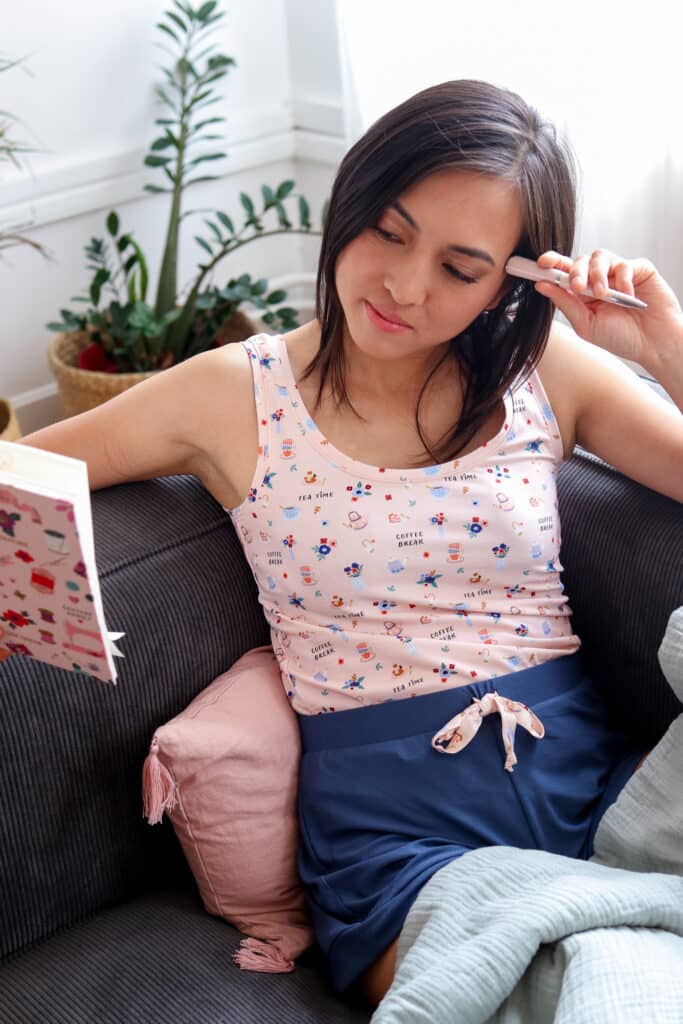 Discover our theme
Whether it's for an active day at home or for relaxation, for a sports or meditation session, with our boxy t-shirt and shorts/trousers set, you combine comfort with elegance. Viscose jersey combines the comfort of pyjamas with the drape of outdoor clothing. Designed for strolling around the house, our T-shirt, worn over jeans, will instantly become a pretty outdoor top.
In this theme, we present to you the viscose jersey. Comfortable like cotton jersey, viscose gives it a totally different fit. Fluid and heavy, while remaining very comfortable and stretchy, it is a slightly more difficult fabric to handle.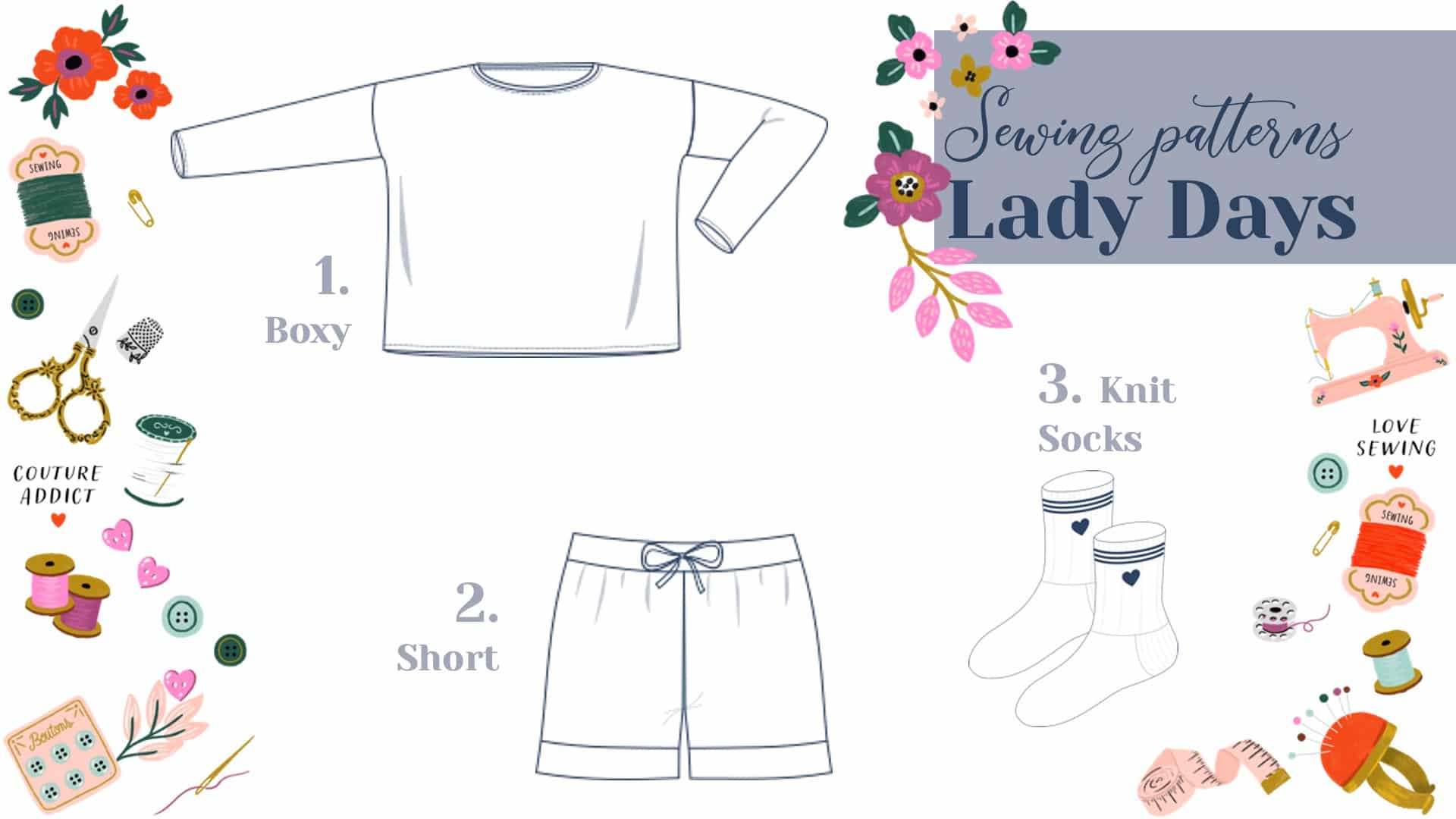 Viscose Jersey – Raspberry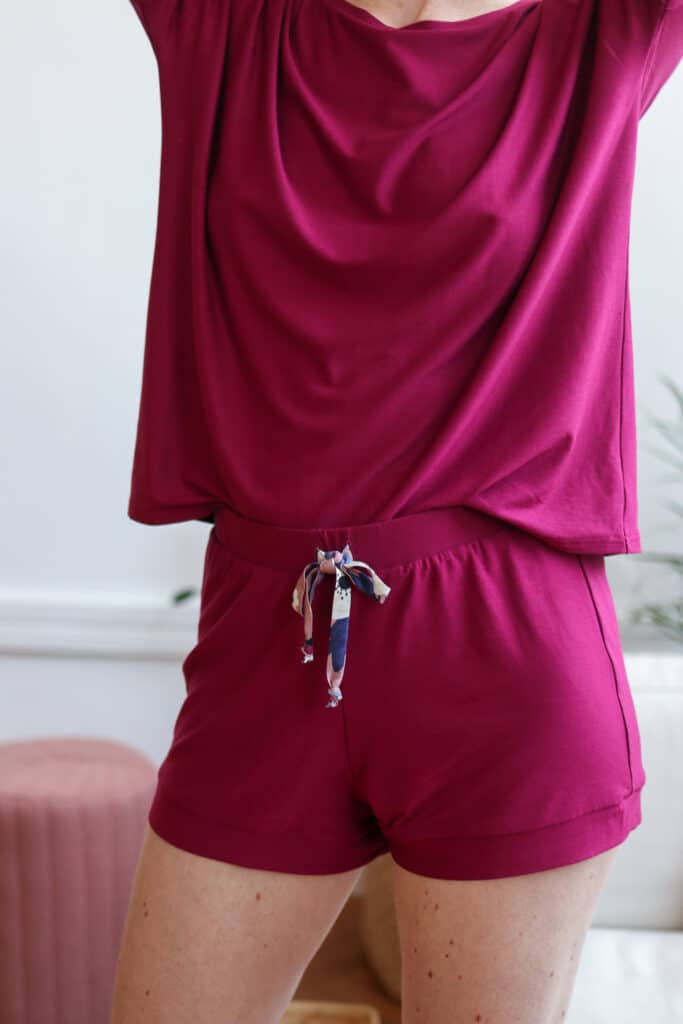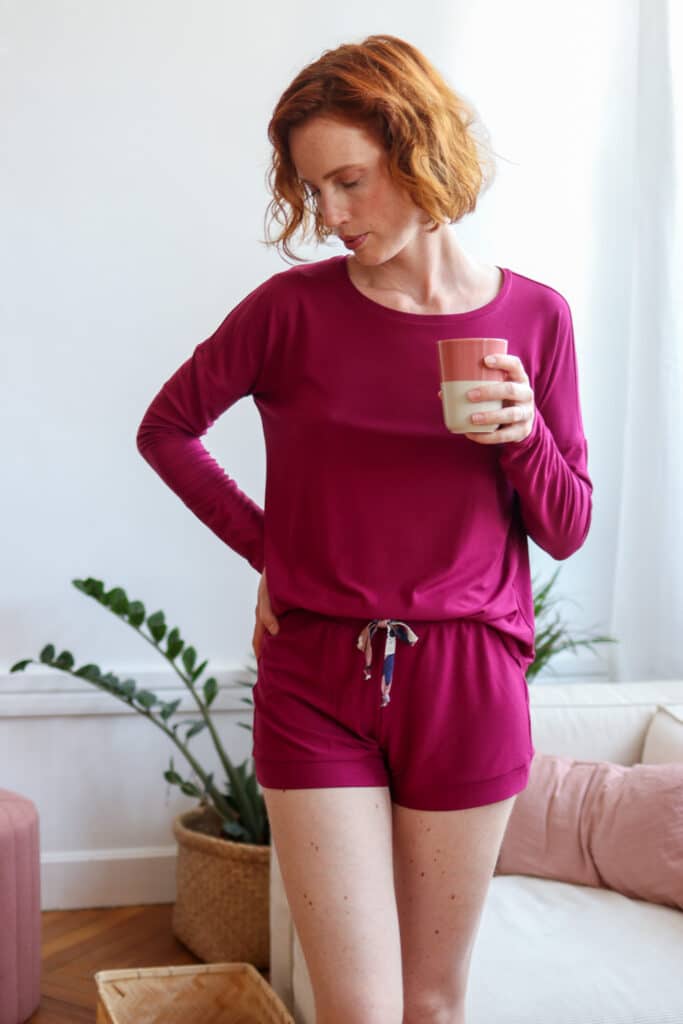 Viscose Jersey – Blue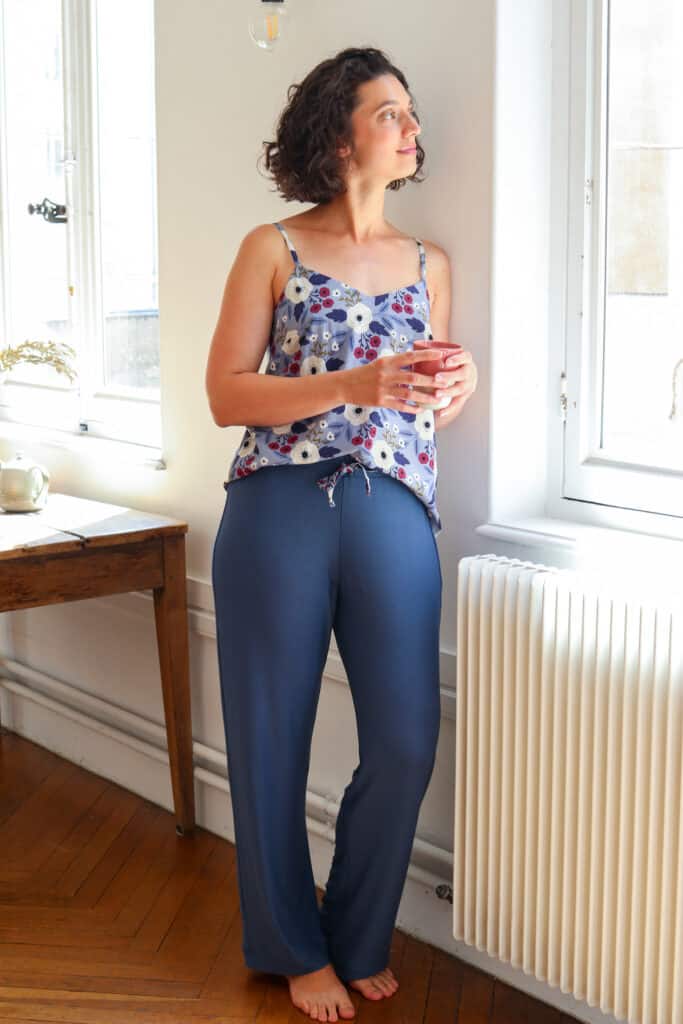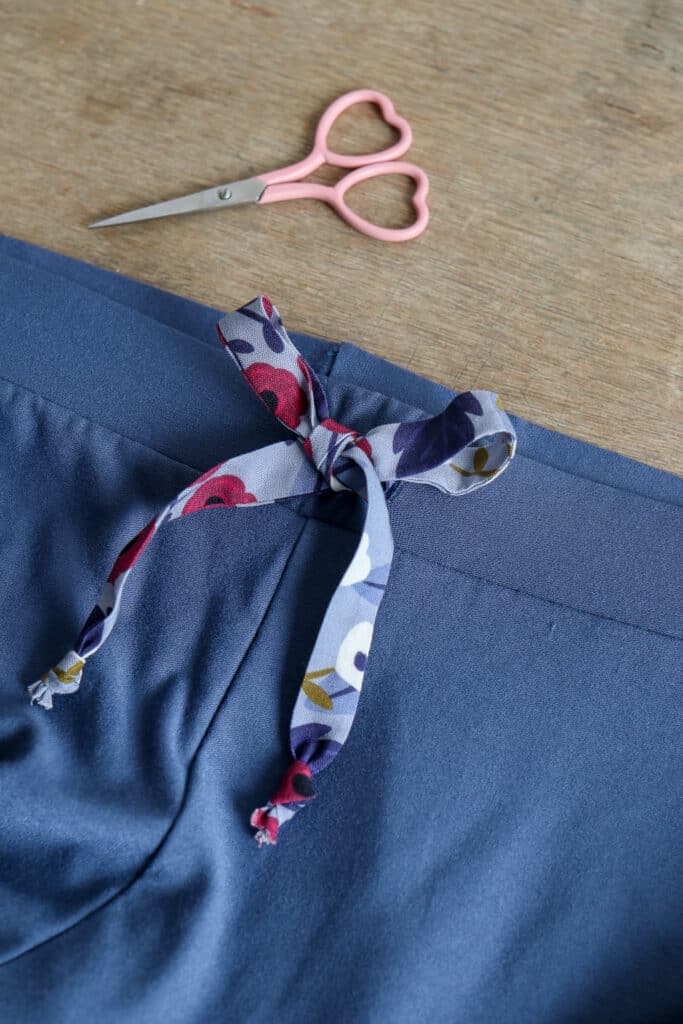 Discover our theme
Before spending a day at home, treat yourself to a pretty bouquet of flowers to admire. We chose the anemone for this third theme that we associate with viscose. Indeed at Lise Tailor, our floral viscose are our trademark and it was not possible not to offer them in our book.
It is naturally with our babydoll pattern that we associate it. This is the most delicate piece of this work and it lends itself perfectly to this fabric.
We wanted our babydoll to be comfortable and a bit sexy with its V-neckline. Cut into a tank top, it turns into a basic that you'll be happy to wear all summer long.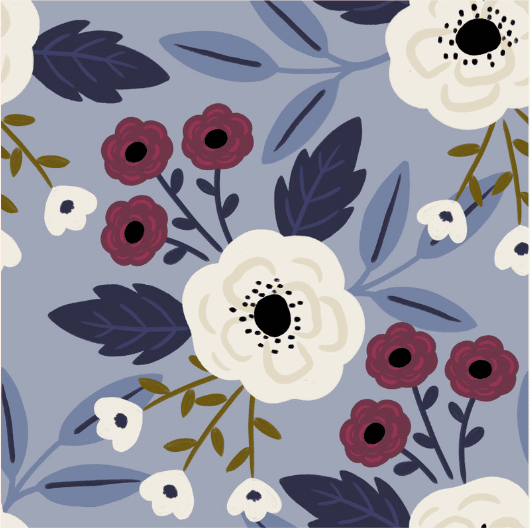 Before spending a day at home, treat yourself to a pretty bouquet of flowers to admire. With its black heart, the anemone flower blooms from mid-winter to early spring. It is placed in the center of a floral composition on a lavender blue or antique pink background and reminds us of the intimacy of an English cottage where we like to suspend time.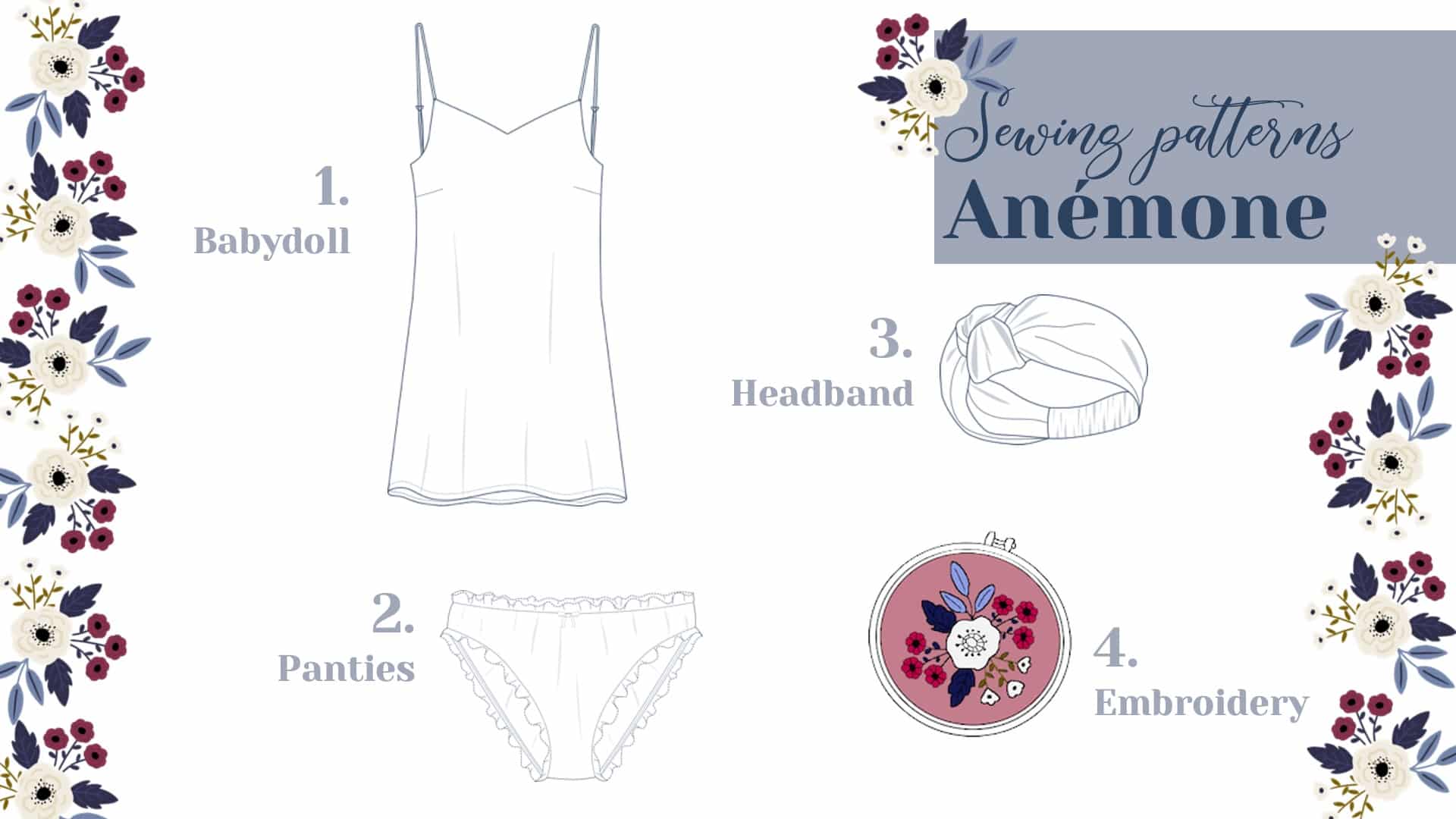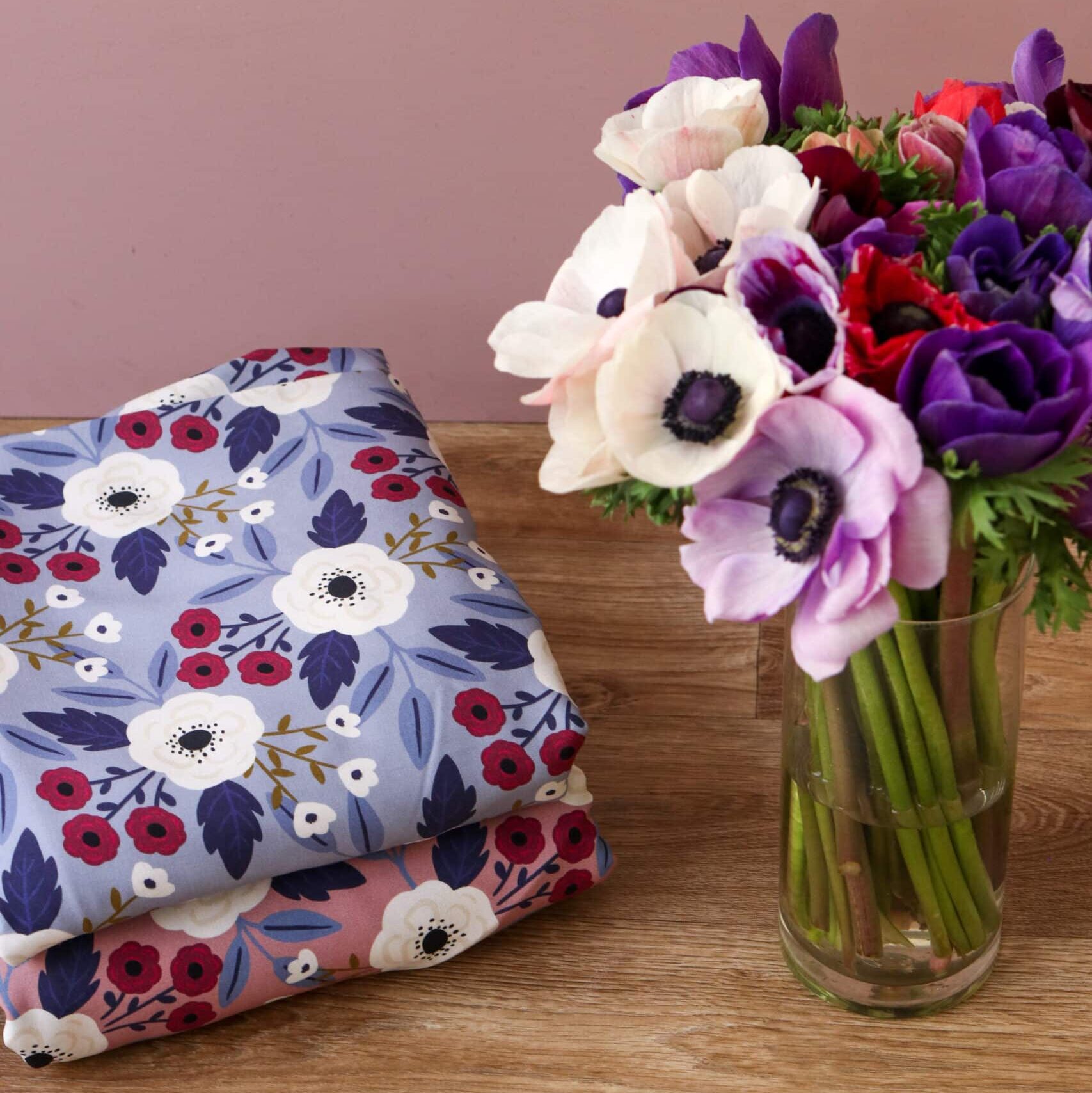 ANÉMONE PINK – Viscose ecovero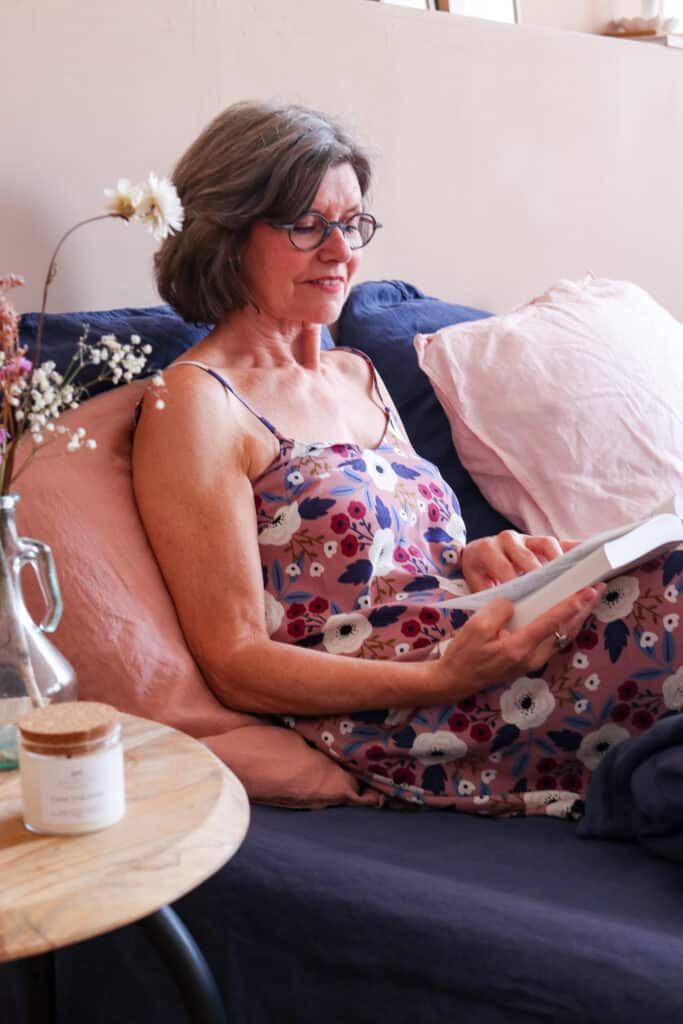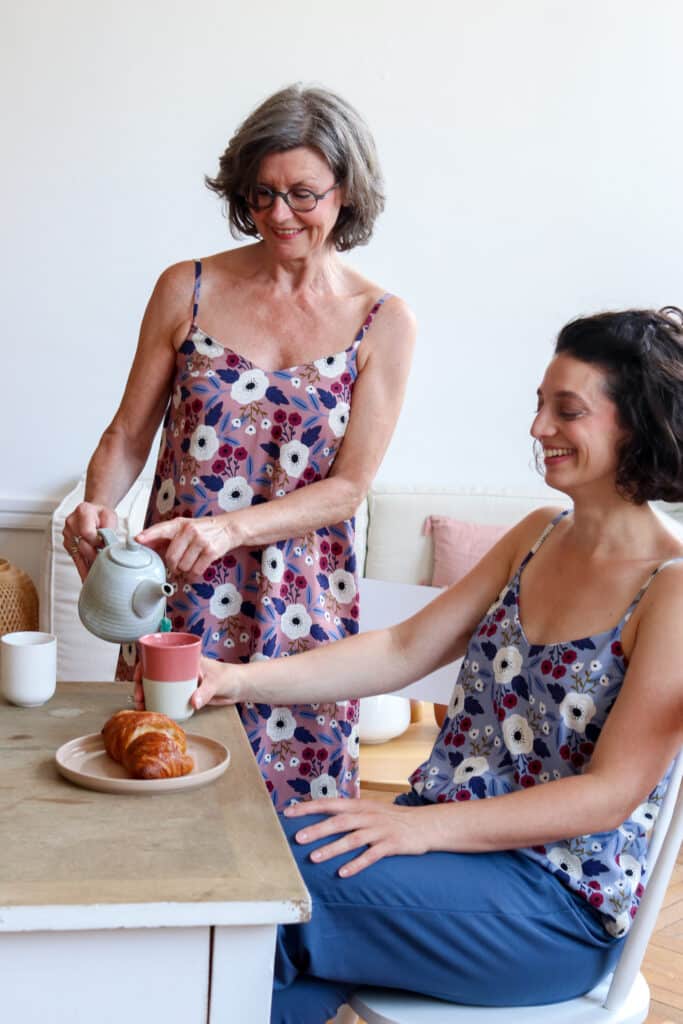 ANÉMONE BLUE – Viscose ecovero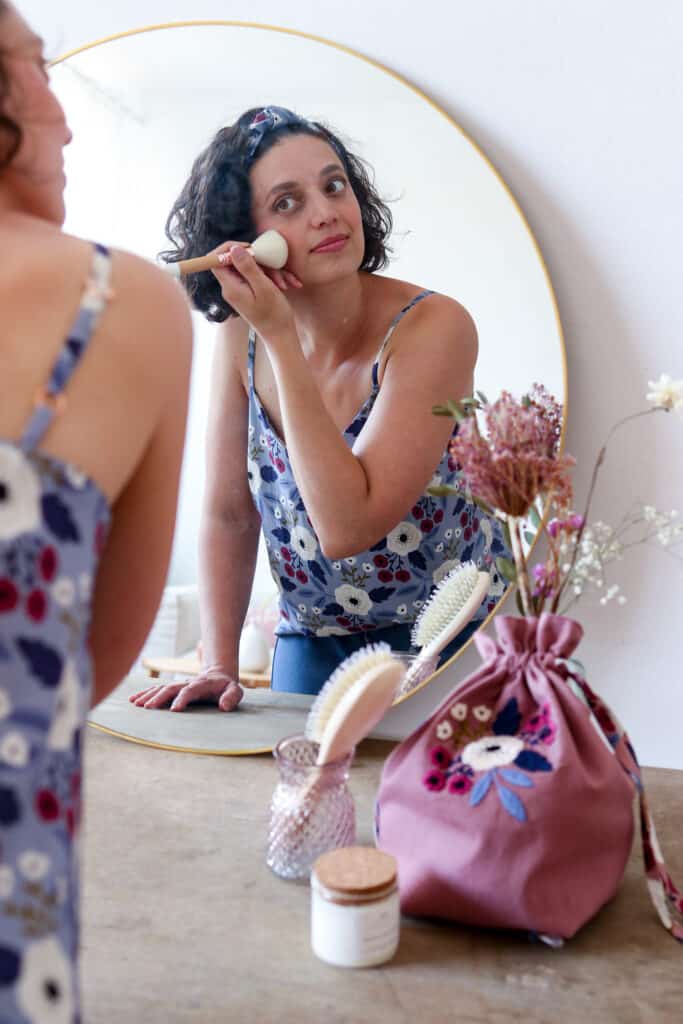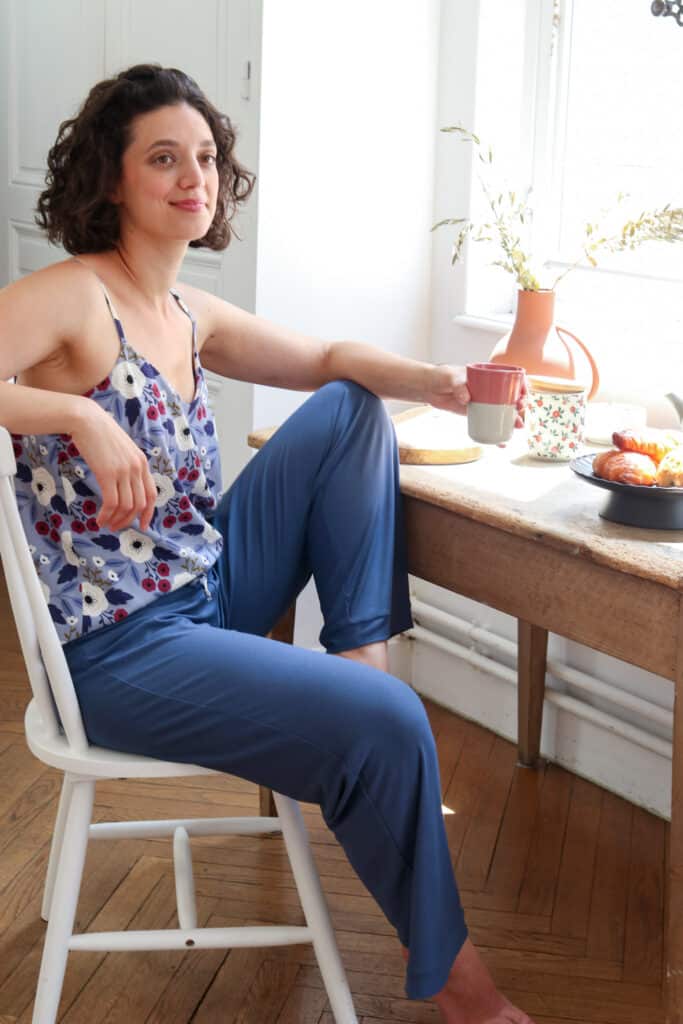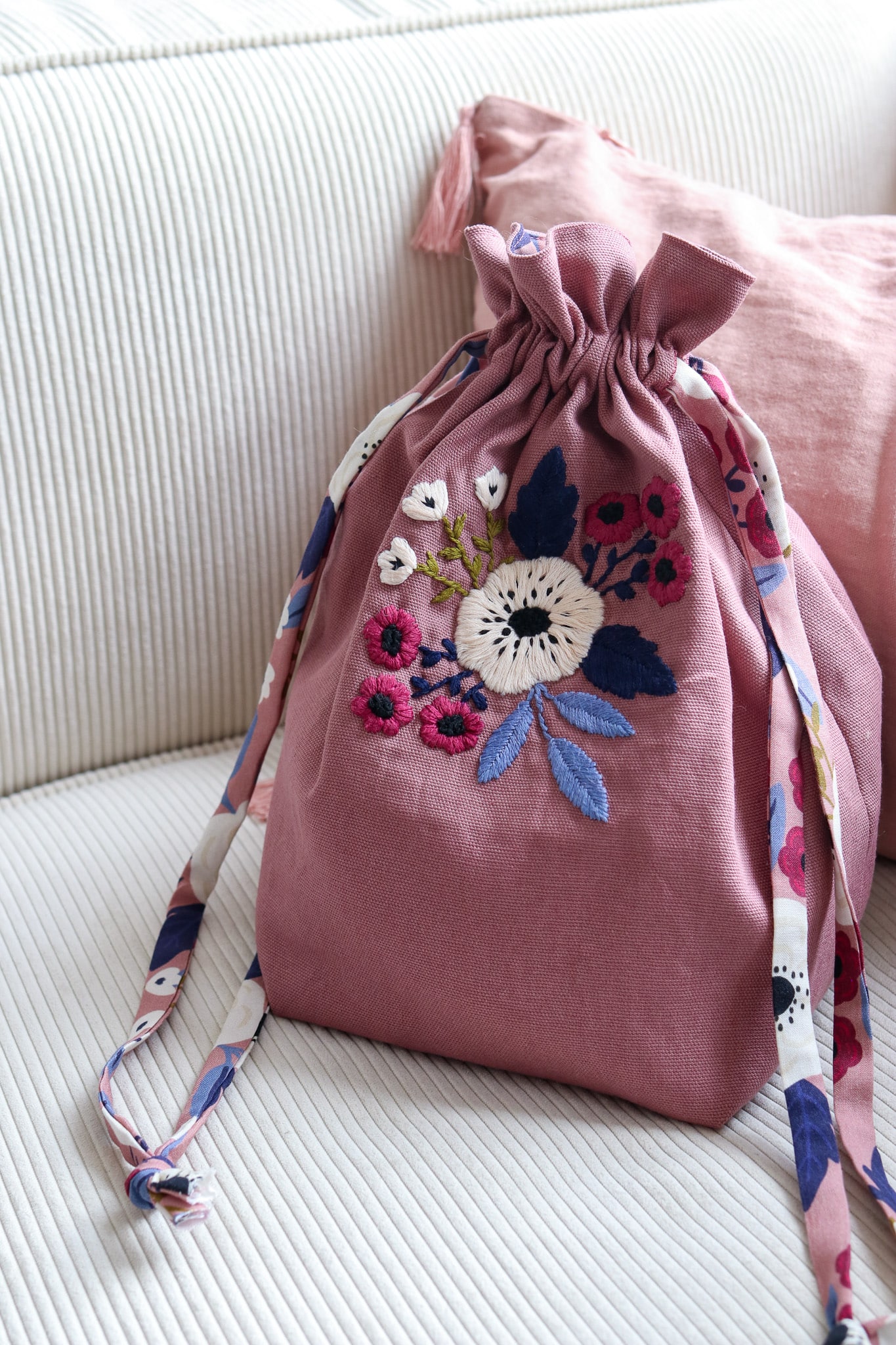 Want to start embroidery with us…
We offer you an embroidery kit to make this magnificent pouch and highlight the Anemone pattern.
Our Anemone embroidery kit includes:
Embroidery threads
Cotton canvas
Pink Anemone Lining
Embroidery needle
Embroidery hoop (optional)
Discover our theme
Who says "cozy at home" necessarily says sweatshirt! It is the comforting material par excellence, the one you put on when you feel out of shape, when you are cold or after a long day of work.
We have chosen for this fabric a delicate herbarium motif of wild flowers and leaves.
With this fabric, we offer you a duo of patterns to wear together or separately: a sweatshirt and jogging pants. Essentials in our wardrobes that we have worked on for women by betting on a fittedleg, a slightly rounded raglan… small details that make all the difference. When worn, you are comfortable, you feel pretty and you can relax.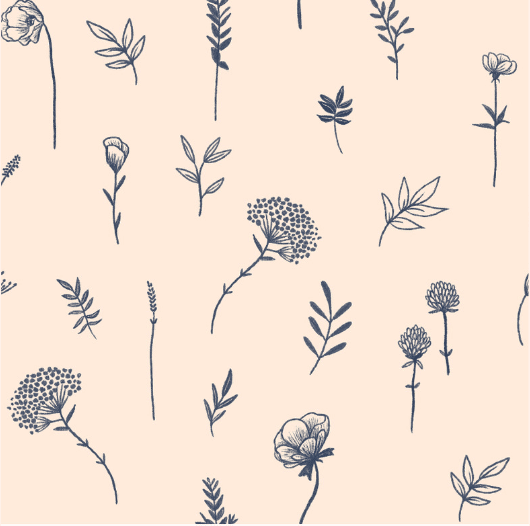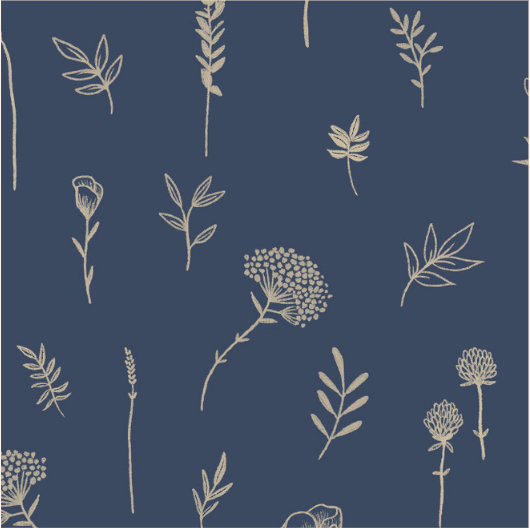 For Secret Garden, we chose a delicate herbarium pattern of wild flowers and leaves. Like a souvenir of a walk in nature, this motif is an open notebook where we carefully arrange our collection of plants. Nature is precious, we like to preserve and admire it.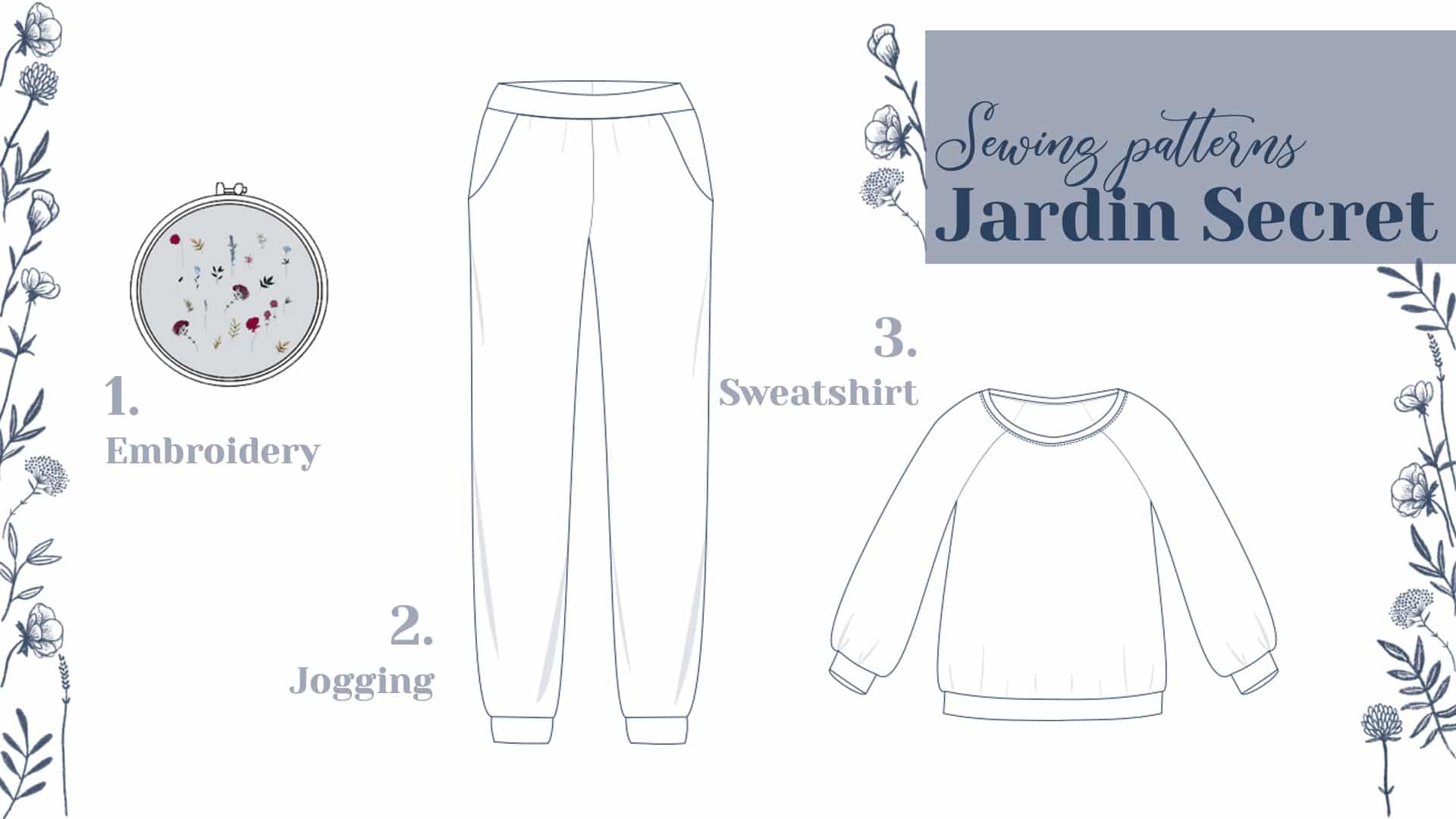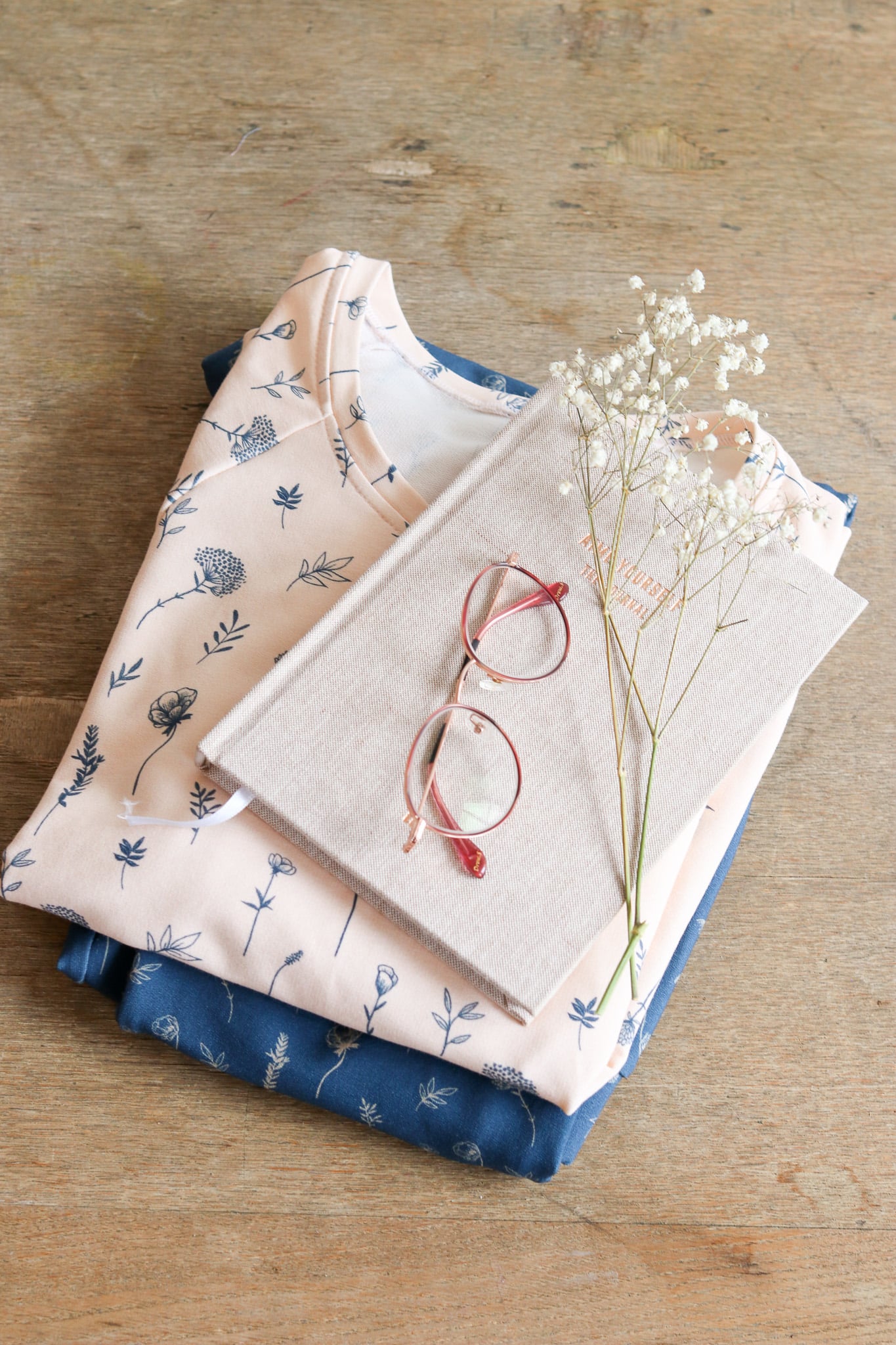 SECRET GARDEN BEIGE – French Terry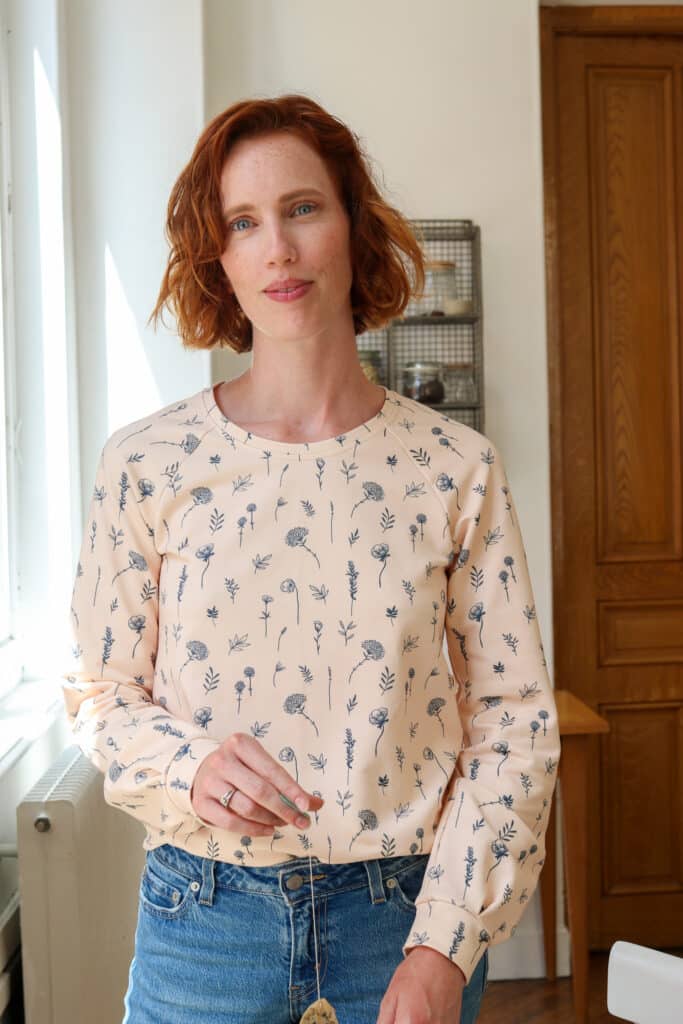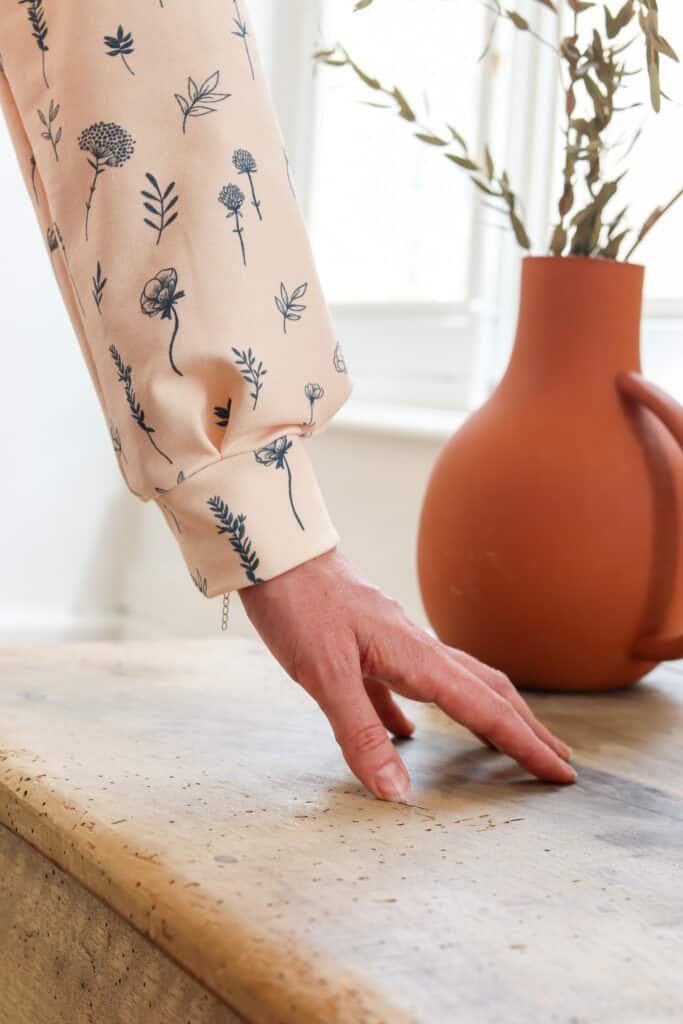 JARDIN SECRET BLUE – French Terry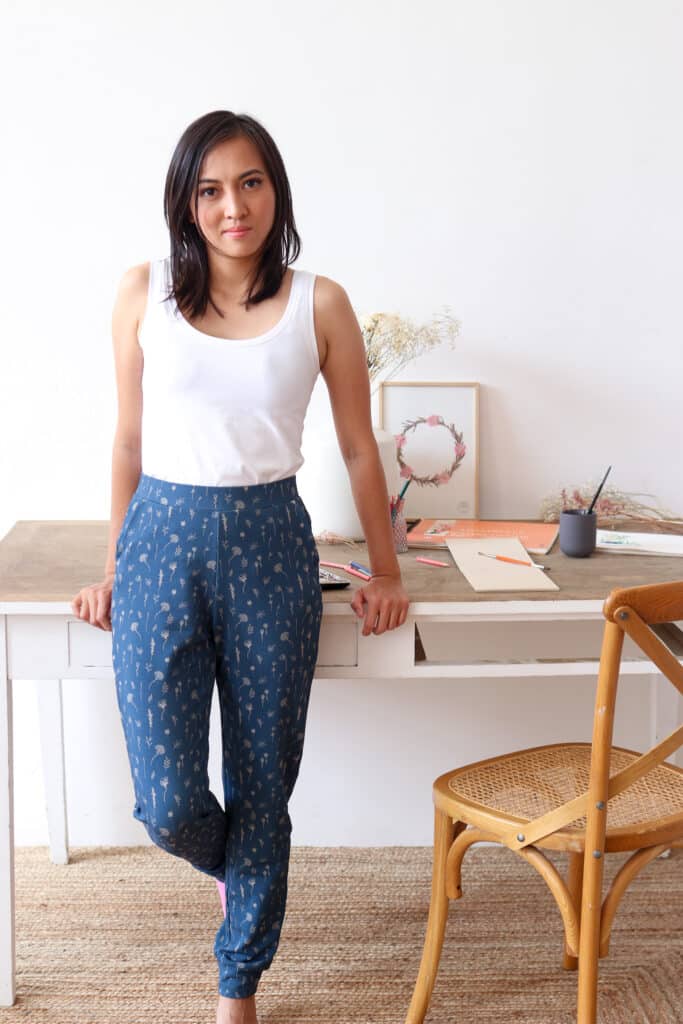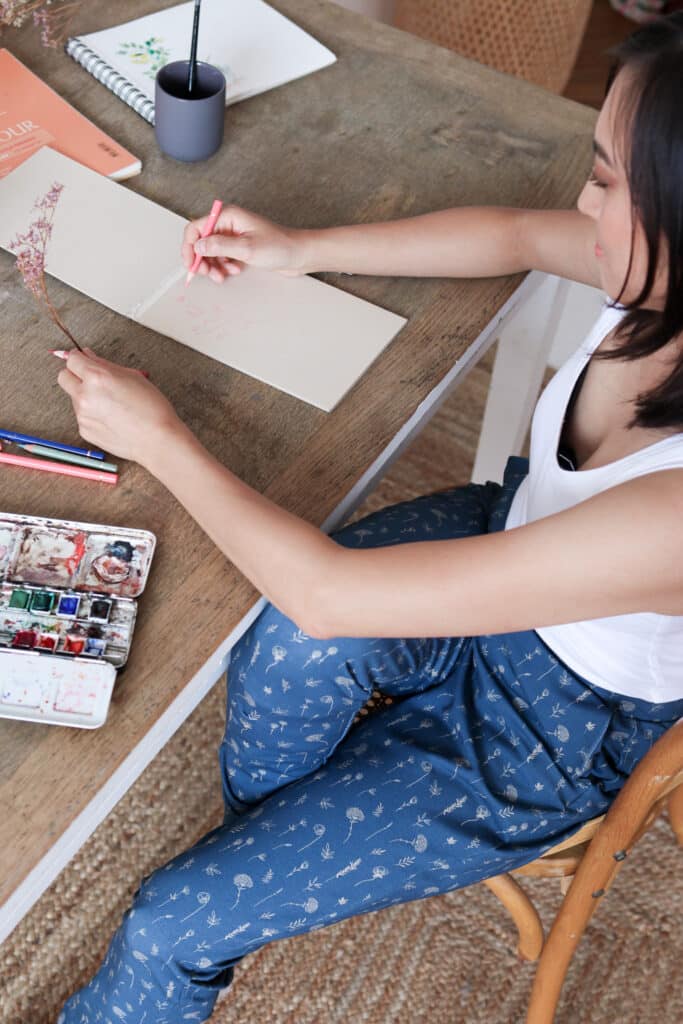 In addition to our viscose and jersey Tea Time, we offer you an adorable pin representing a pretty bouquet in a vase.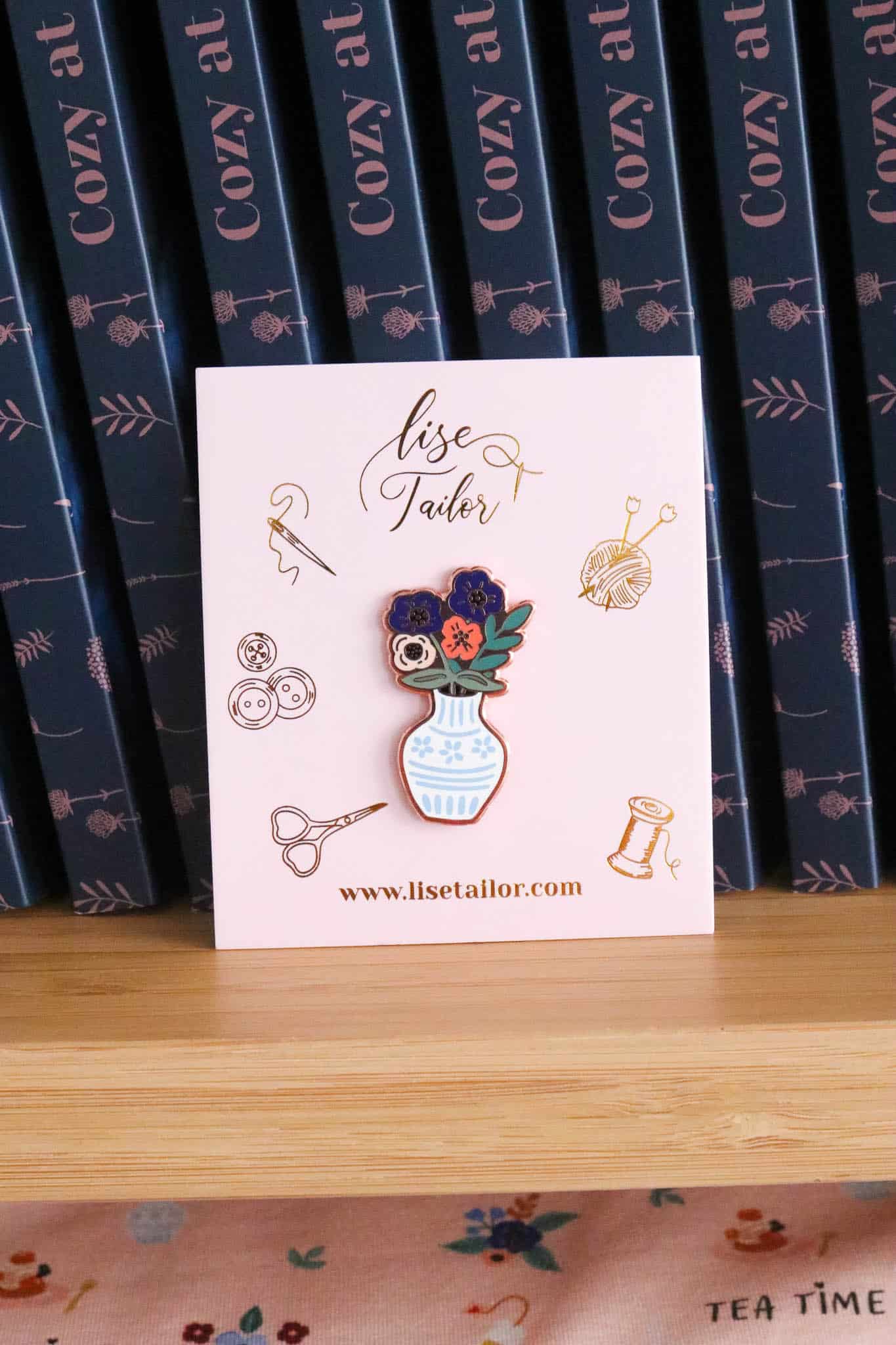 In addition to our Tea Time viscose and jersey, we offer you an adorable needle holderrepresenting a pretty teapot.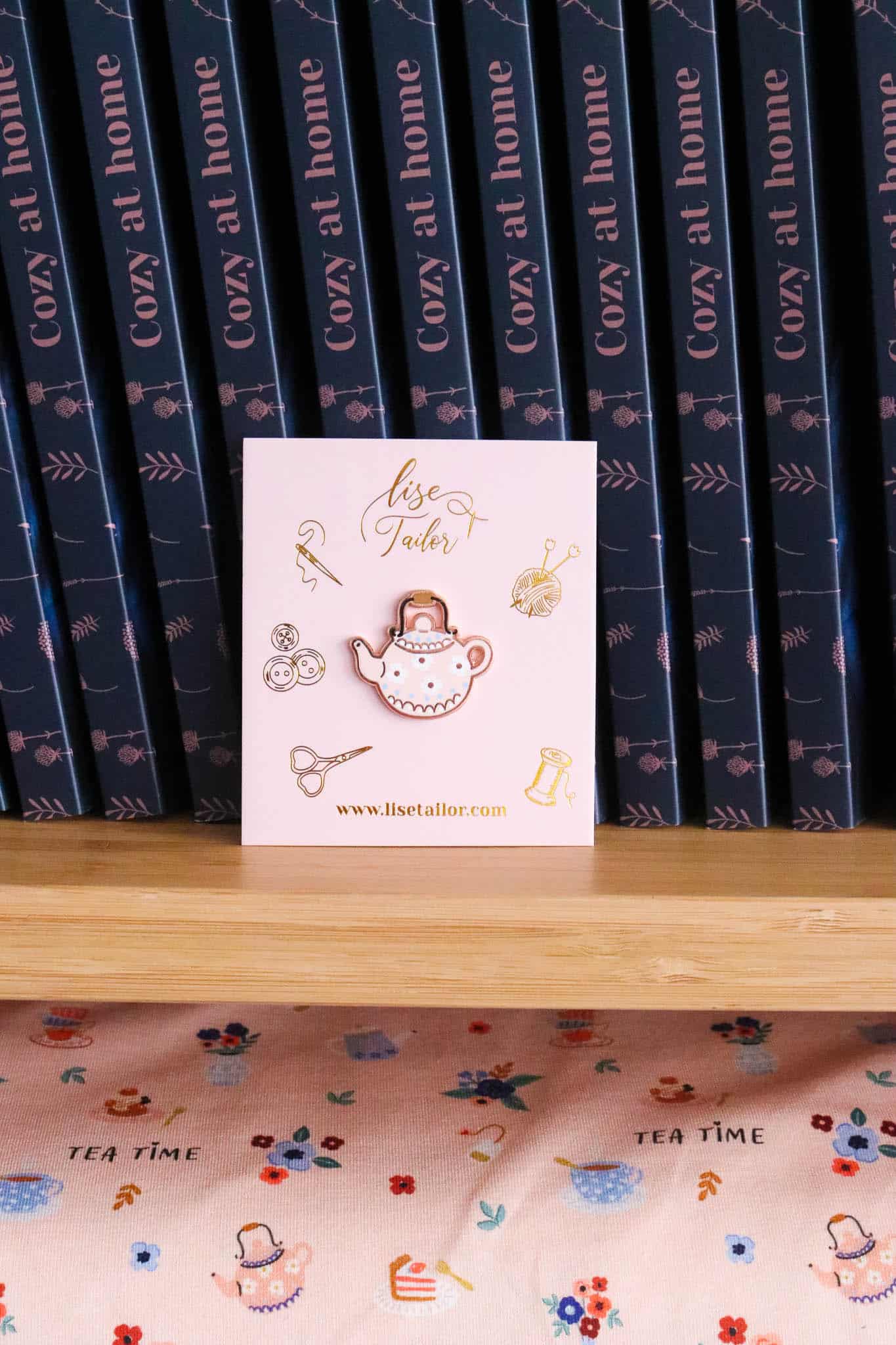 We offer you new plain fabrics to combine with Cozy at home fabrics for a 100% handmade, 100% comfortable look!
White cotton jersey
Water green cotton jersey
Raspberry viscose jersey
Viscose jersey Blue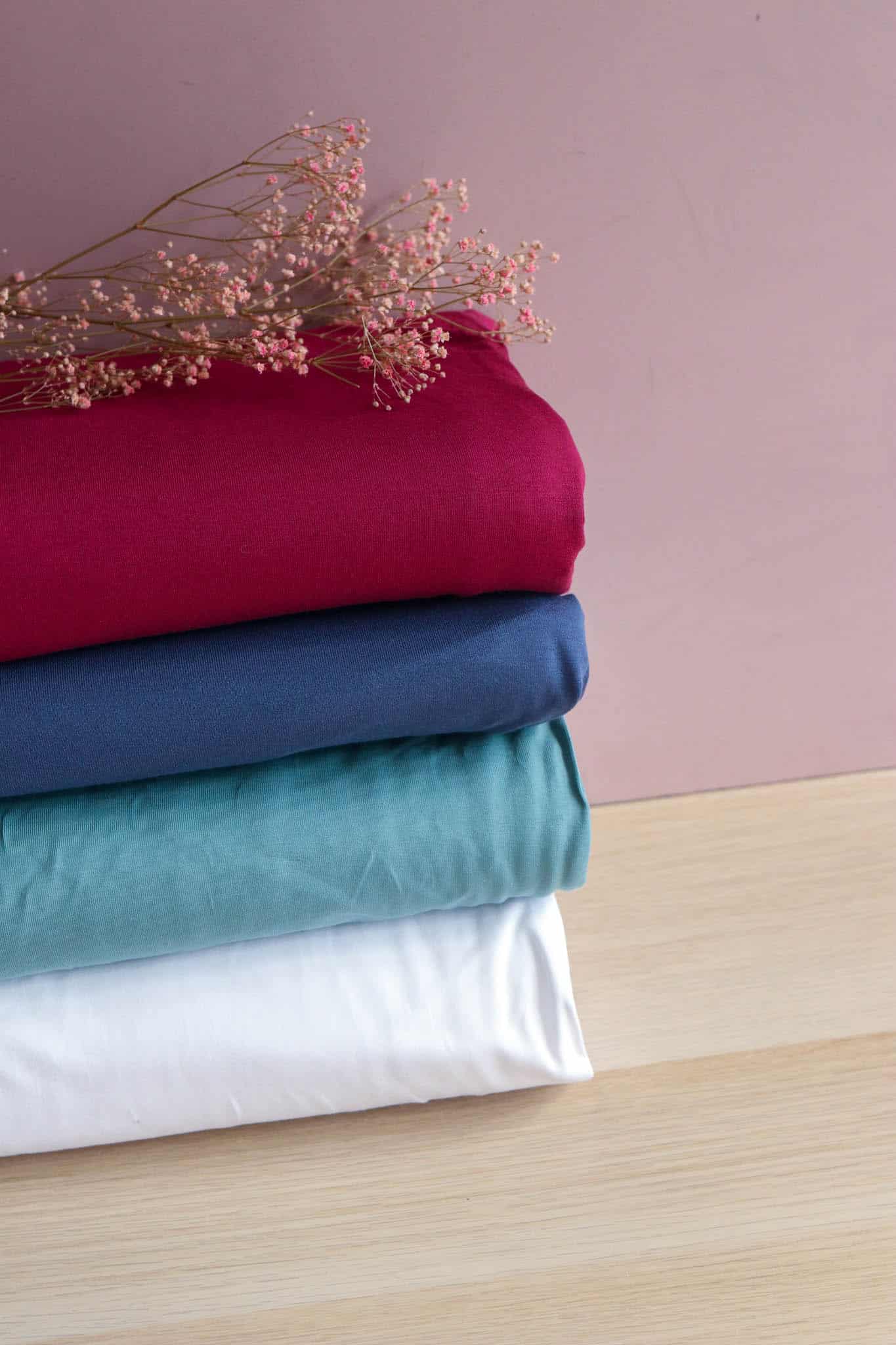 We sincerely hope you enjoy this Cozy at Home collection and look forward to seeing your creations!
For the first 200 orders of the book, we are happy to offer you a "shopping list" notepad from our Tea Time pattern as well as a nice measurement card to keep preciously before starting a sewing project.