Release date : 15TH OF MAY
We are thriller and very excited to release today the lookbook of our summer 2021 collection. We present:
our first dress pattern: "Belle des champs"

5 new fabrics

A new print for our sewing kits

A new print for our pleated skirt

An adorable set of 2 pin's and 2 needle minders
We hope that you'll like this new collection as much as we do.
Happy discovery!
Fall for our new pattern!
After the success of her camisole-shorty set "I love you", we are proud to introduce her second sewing pattern: The dress "Belle des champs".
Its name echoes the universe we really wanted for this new pattern: Something light and feminine at the same time, a dress that could be worn all summer long.
To go to the office, for days in the park or to go dancing, we designed a versatile dress that will be suitable for every situation depending on the chosen fabric.
Inspired by our Pâquerette pattern, cute ruffles delicately fall on the shoulders to sublimate a V back and front neckline. Its flattering cut will highlight your waist thanks to its darts and skater skirt that turns just as we like it.
Every style is possible with « Belle des champs ». It goes well either with a short jacket or snickers, with a it-bag or sandals.
Beyond the style, with « Belle des champs » we worked hard to create something really new that both reflects Lise Tailor's personality and guides you towards professional sewing and finishing techniques. A pattern that allies quality and originality.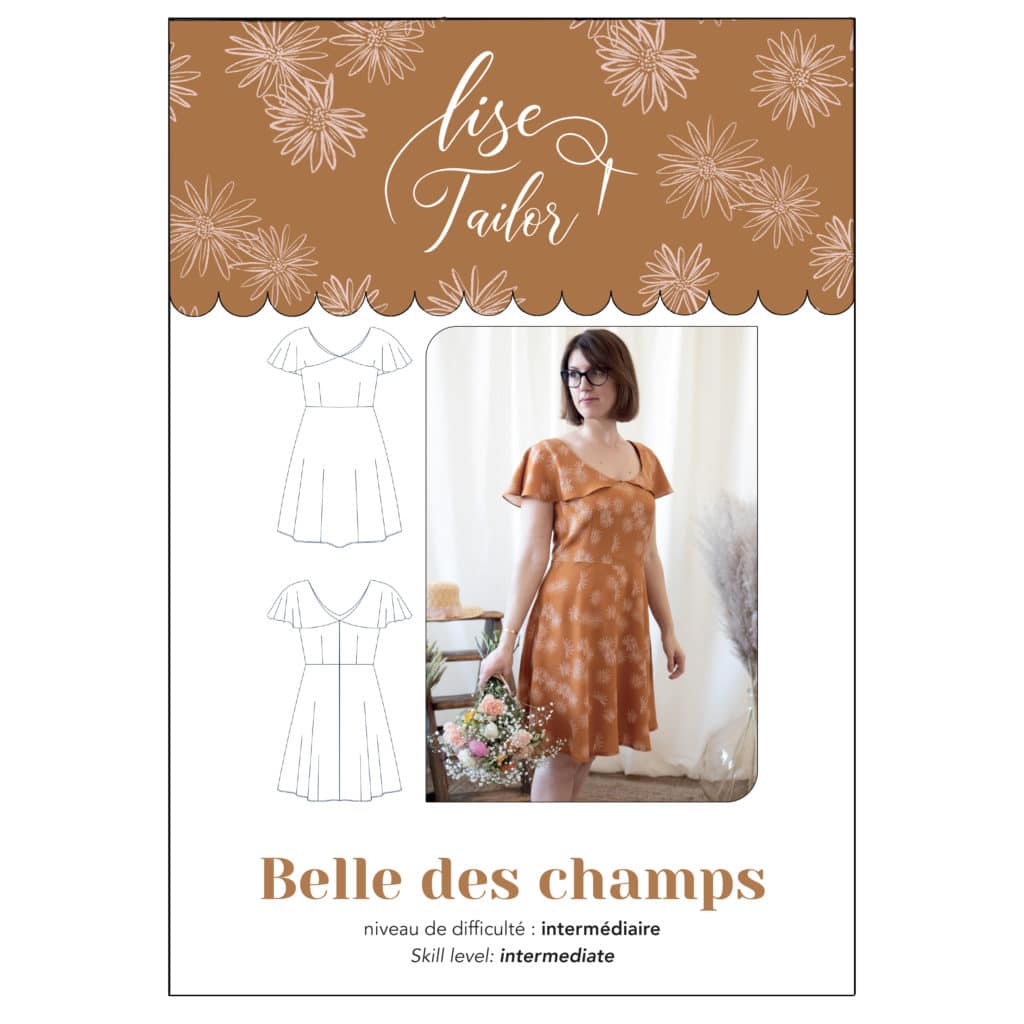 Our pattern includes:
a detailed booklet providing a simple and pragmatic step-by-step, illustrated guide
a full size pattern (from size 34 to 48)
all the above in a custom designed envelope with adorable scalop finish.
In this new capsule, colours and flowers express themselves on 3 viscoses, 1 cotton satin and a knit fabric, with fresh and luminous patterns.
An ocher background and delicate white daisies as spread by the wind make this new viscose a must. Pâquerette thus suits dresses, jumpsuits, light shirts or blouses with ruffles. Its colour, timeless and trendy at the same time, matches every age or skin complexion, for garments and accessories that are truly pleasant to sew and wear.
Grenadine is a figurative and acidulous pattern, a composition of summer fruits on a white background that highlights a bright yellow and a hot pink.
Ideal for kids clothes, this non-transparent viscose will also bring a touch of freshness and fancy to adult's garments. Let's imagine it as a maxi-dress with a large straw hat or as a blouse with a pair of jeans and matching accessories. The perfect fabric to let your good-mood speak!
Tender with its pastel shades, Gloria is characterized by a vegetal design, worked for a perfect colour harmony and a balanced floral composition. Plants, leaves and flowers are melting on a pale pink background and give life to an abundant but nevertheless refreshing jungle.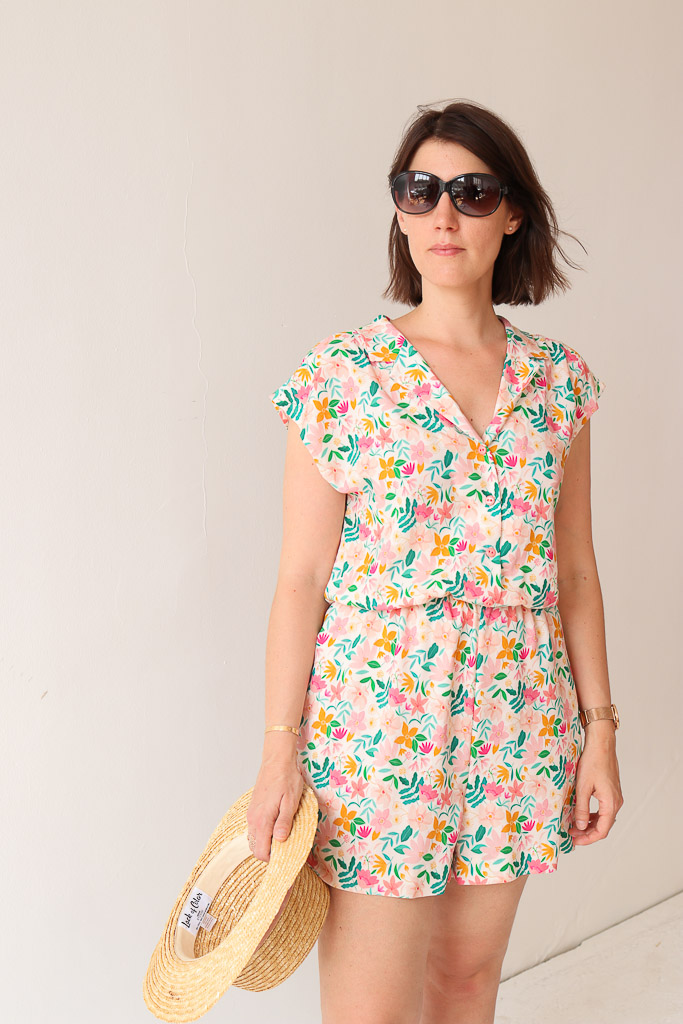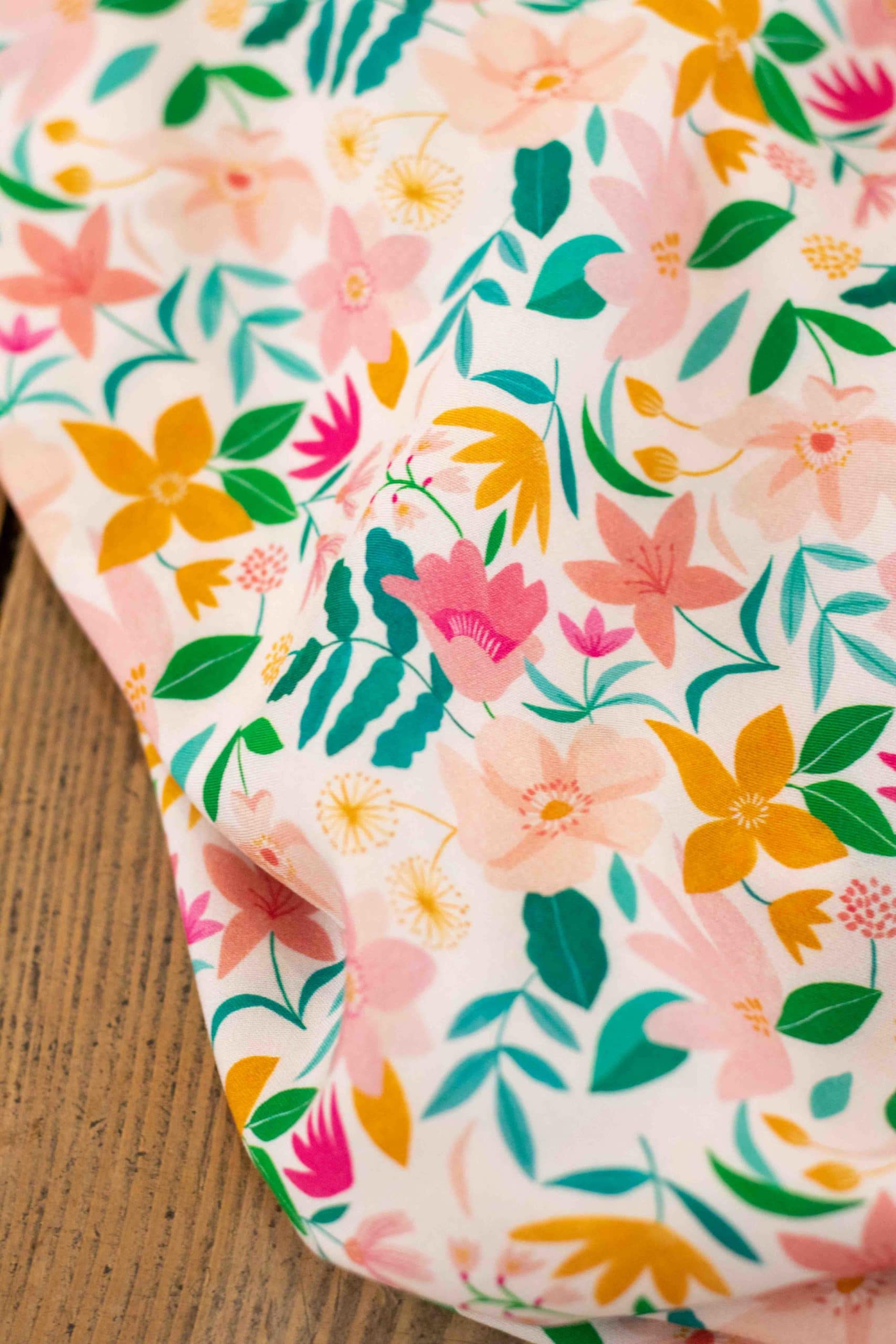 If you like our viscoses no doubt you will have a crush on our satin cotton. Breathable, a little bit less supple, it yet allows gathers and ruffles, for very light and airy creations. Our Flore pattern opens the show with its soft and summery design. Created to match the other fabrics of the collection, you will find with Flore, ocher, pink and green shades. Both dynamic and delicate, its colours are tempered with a brushed effect for a fabric that is soft and smooth at the same time.
In this collection you will meet our jersey fabric again. Still printed and an organic basis and with an irreproachable quality, it is available with our pattern Sunshine. Happy, bright and unisex, Sunshine is perfect for baby and kids garments. Its excellent retractibility ensures durability and comfort.
SEWING KITS AND ACCESSORIES
For this capsule 5 new sewing kits are to be released. Our printed fabrics are available with our iconic pouches, sizes M and L. The toiletry bag will be available as a kit too.
Nouveauté : le sac bowling
Bag kits will be available in a plain camel cotton fabric and a Grenadine printed lining. The camel colour is to be associated easily with each piece of your wardrobe while the lining stands for the touch of fancy that seamstresses particularly like.
Pin's and needle minders set
Have fun and make a wink to the lining of your bag or give a touch of pep to your outfits by adding our pins « little fruits ». They are released as a set including 2 pins and 2 magnetic needle-minders. All our pins are fastened with a double pink rubber clasp so as not to risk damaging your clothes when you wear it.
a new print for our pleated skirt
If you desire a turnkey project, with perfect fitting and finishing, the Pâquerette pleated skirt kit is what you're looking for.
The pleated skirt is a comfortable and timeless garment, here upgraded with trendy pattern and colours. You will indeed be able to associate the skirt with your blouses and shirts without overthinking.
In the kit you will find everything that you need to sew the pleated skirt (fabric, haberdashery) with a very detailed booklet to make sure your project will be a success with… as you know us… a perfect finishing.