The news…
Our winter collection is launched and your welcome touches us very much! In the last few days we have finalized the winter lookbook and taken the last pictures so that everything is ready for you. We also work a lot on quality articles to inspire you and share with you the life of Lise Tailor. Creating is our passion and we want to feed yours! Our sewing machines work at full speed between stitching fabrics for the spring-summer season and the prototypes of future patterns.
Matriochka
This is the name of our pretty fabric from the winter collection!
Following a contest on Instagram, we chose this pretty name among those proposed and it suits him so well! Bravo @lilimogot again! We can't wait to see what she'll sew in Matryoshka viscose and her version of our Herbier blouse pattern.
Your enthusiasm for baptizing this fabric surprised us and made us very happy. We loved making you participate in Lise Tailor's life. You were very inspired and this will surely help us to name the fabrics for the next collections as well …
All our haberdashery partners have been informed of the new name of this fabric. Because yes, the resellers pre-ordered the winter collection at the end of August under the name XXX while waiting to have its name. If you hear of XXX know that it was what it was called backstage.
Olympe
If you have followed our saga on the birth of the Comete fabric, you will remember that another fabric was initially planned for our Comète dress pattern. It was our Olympe fabric from the winter collection. This pretty green fabric with a hint of red in the middle of pretty cream flowers goes so well with a collarless version of our comete dress.
Our moodboard for Winter 2021
More inspirations on our Pinterest
THEIR PATTERN, Our wool…
Focus on our favourite designer:
Atelier Emilie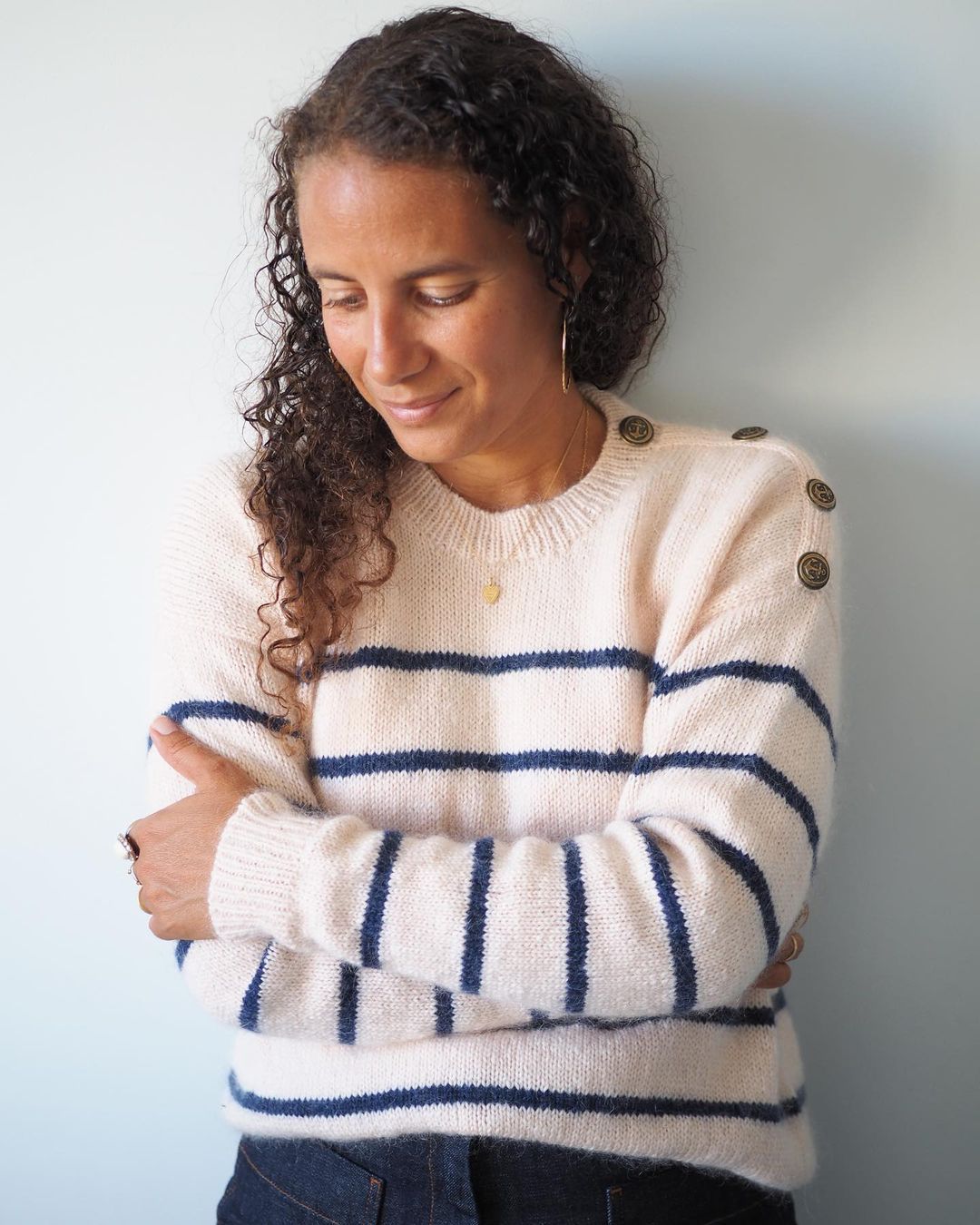 Atelier Emilie
Cowgirl Sweater
in Mérinos & Mohair Nude et Navy blue wool
All of Emilie's knitwear models are sublime.
We love this pretty, comfortable and timeless sweater that knits seamlessly from top to bottom. A basic knit with ease!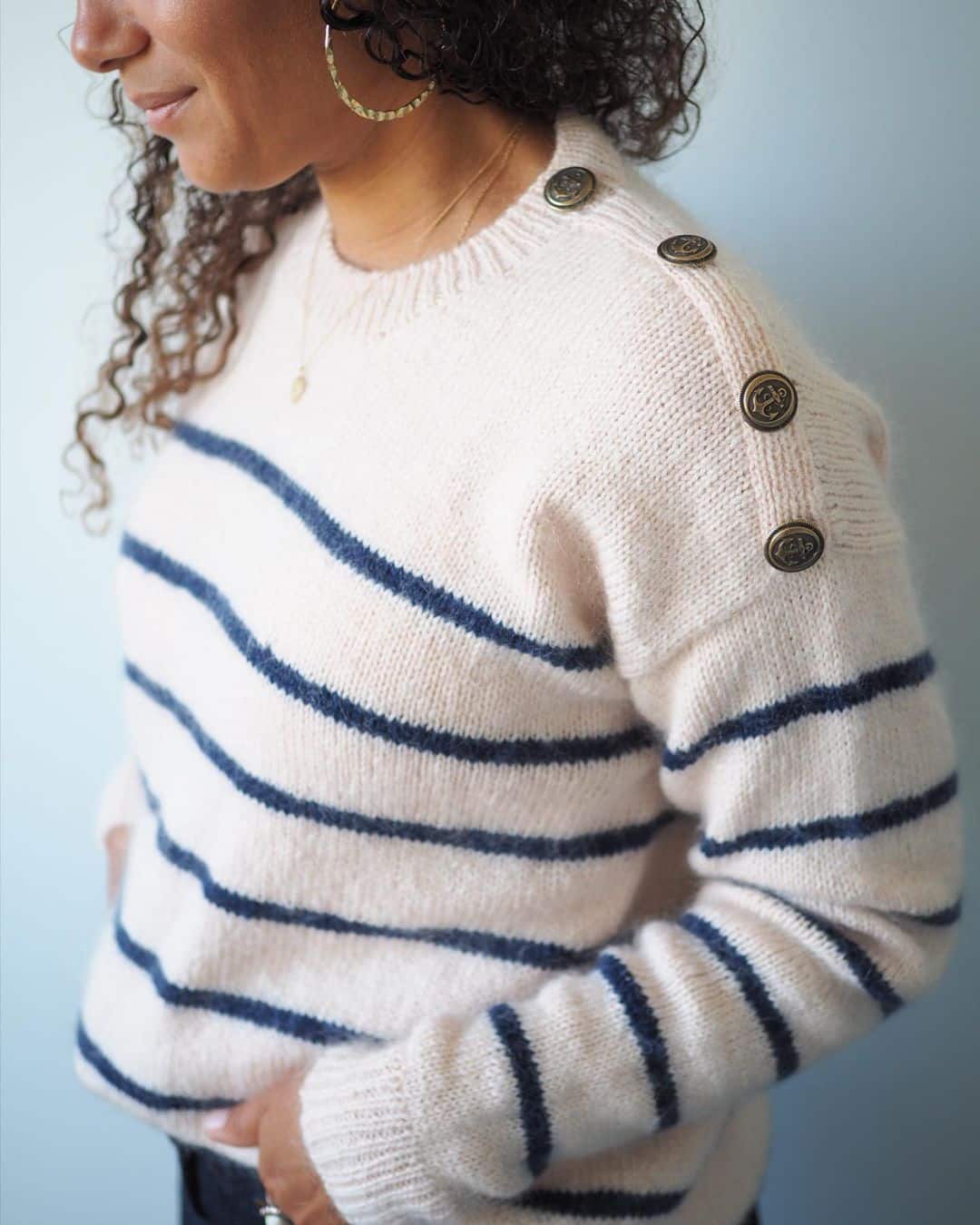 Atelier Emilie
Cowgirl Sweater
in Mérinos & Mohair Nude et Navy blue wool
Emilie offers to revise her pattern with as here with pretty stripes and a false button placket. She invites us to play with it and why not transform it into a dress … we are a fan of this idea!
Les patrons de Mamie
Blouse Suzette en viscose Olga
Suzette est le premier patron de cette jeune mercière qui a ouvert sa boutique à Angoulême. Une blouse un brin rétro à l'allure romantique et bohème qui va parfaitement avec notre viscose Olga. On adore les petits volants à l'encolure et ce décolleté coeur.
Les patrons de Mamie
Blouse Suzette en viscose Olga
La bonne idée de Mathilde est d'expliquer sur son blog comment transformer cette blouse en robe avec 3 versions différentes : classique, rose bonbon et maxi-dress. Ce patron a été conçu pour aller à de nombreuses morphologies et à s'adapter à tous les styles de vie.
Meet @lolilafee
at the showroom
Lolita gives us the pleasure to come to our store for the launch of her magnificent book and spend a cocooning weekend with us.
In the program:
Saturday, the 13th of November: Signing session from 2 p.m. to 5 p.m.
Sunday, the 14th of November: beginner workshop "Knit your Nougatine hat" (From 10h-12h) and Cable-knit workshop "knit an exclusive headband pattern" (From 14h-16h)
Only by reservation here
Tell us in the comments if you will come to spend a cocooning weekend at the showroom and dive into the sweet world of Lolita Duby @lolilafee
See you soon ! We wish you a nice day!