We are so happy and excited to present to you today our new Fall 2021 collection! This collection features:
5 new fabrics:
2 jerseys
2 viscoses
1 cotton satin
2 new patterns:
The Comète dress-blouse
The Frimas tee-shirt
1 new range of buttons: Feuillette
Happy discovery!
Release dat: Saturday the 18th of September
Meet Comète - Blouse and dress
A delicate buttoned-up dress with an elastic waistband and a pretty scalloped collar.
The pattern includes 2 sleeves versions and a blouse option. Its wise design enables all choices of fabrics. An intermediate level of difficulty will seduce expert seamstresses but will also convince beginners to dare a project that requires patience and thoroughness.
Comète's options:
blouse version
dress version
2 sleeves options
3 collar versions
A tee with cute details and a lot of options such as gathered sleeves, ruffle, and button band in the back… A pattern that offers the possibility to create your ideal project from the simplest to the most worked thus echoing your very personal style.
Frimas' options:
With or without ruffle
fake button band option at the back
2 sleeves options
Meet Fall breeze - jersey
Fall breeze is a pattern designed to let us enjoy the Indian summer and start the transition to the new season. Sunset atmosphere and first leaves shading with red, this knit fabric allows strong pieces such as straight or peplum dresses.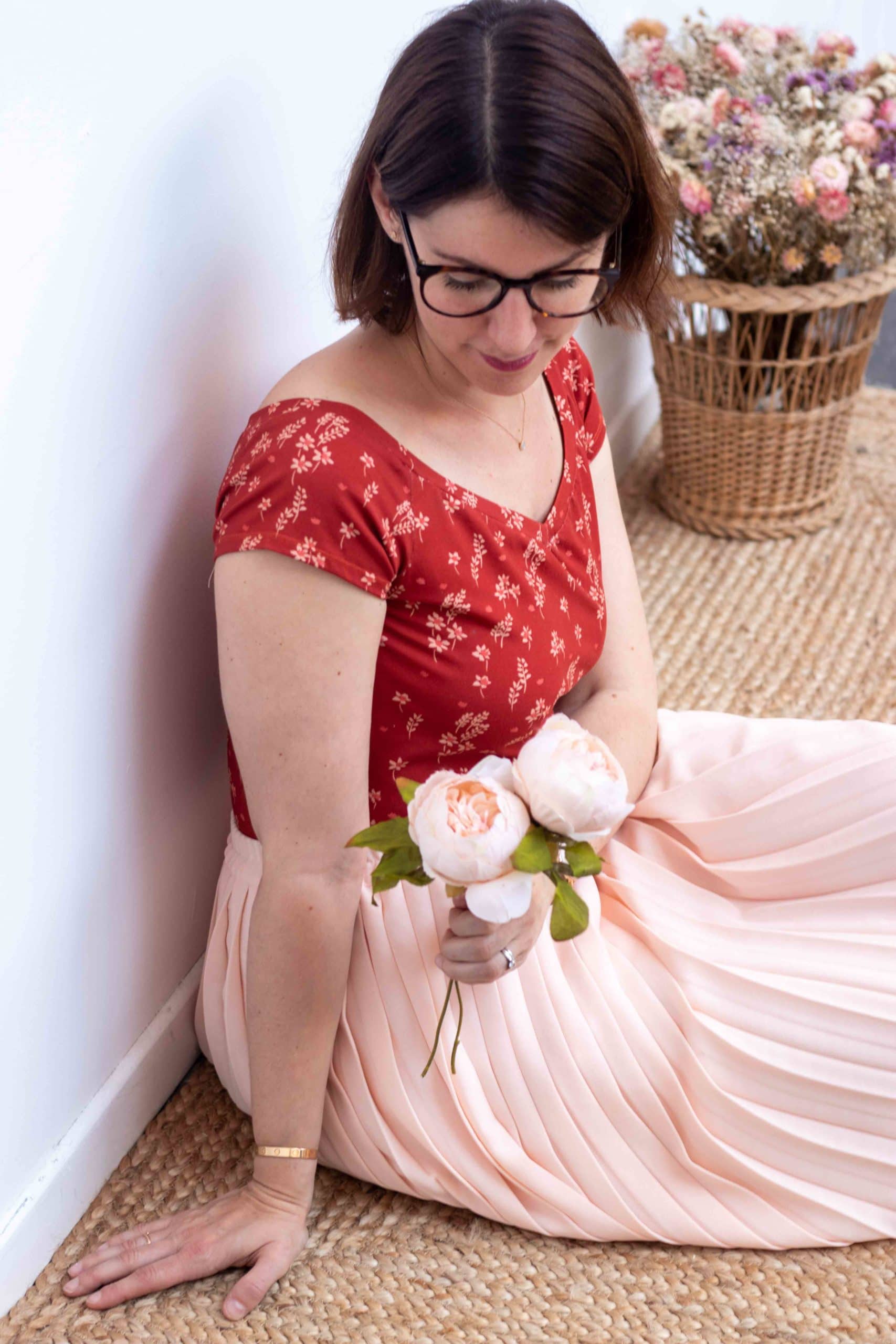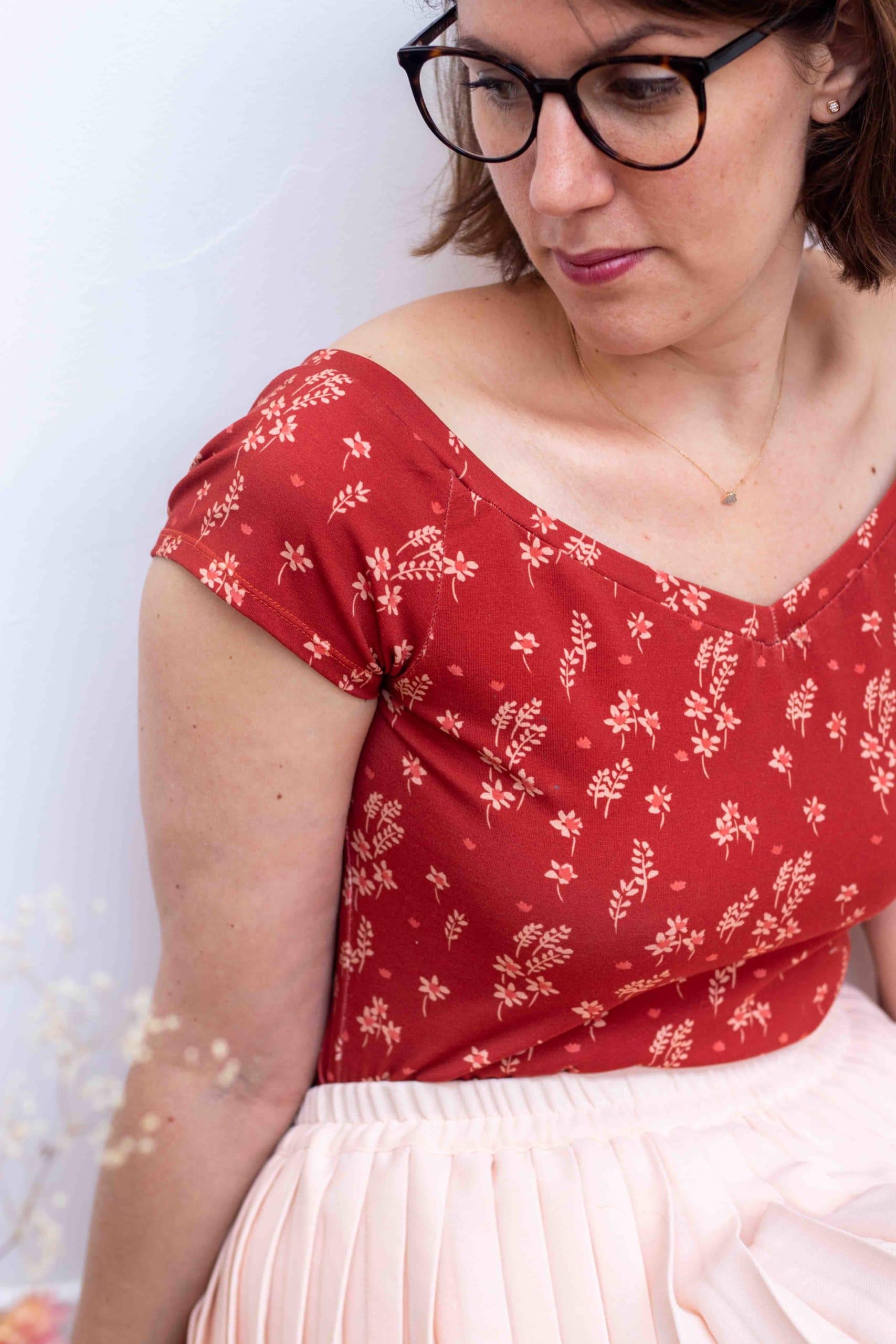 Nouméa reminds us of pacific islands with its mighty floral pattern printed on a light pink base. Fuchsia hibiscus enhanced with small ochre leaves will suit every skin complexion for home wear garments to make the summer last or t-shirts with cute details (gathered sleeves, back button band).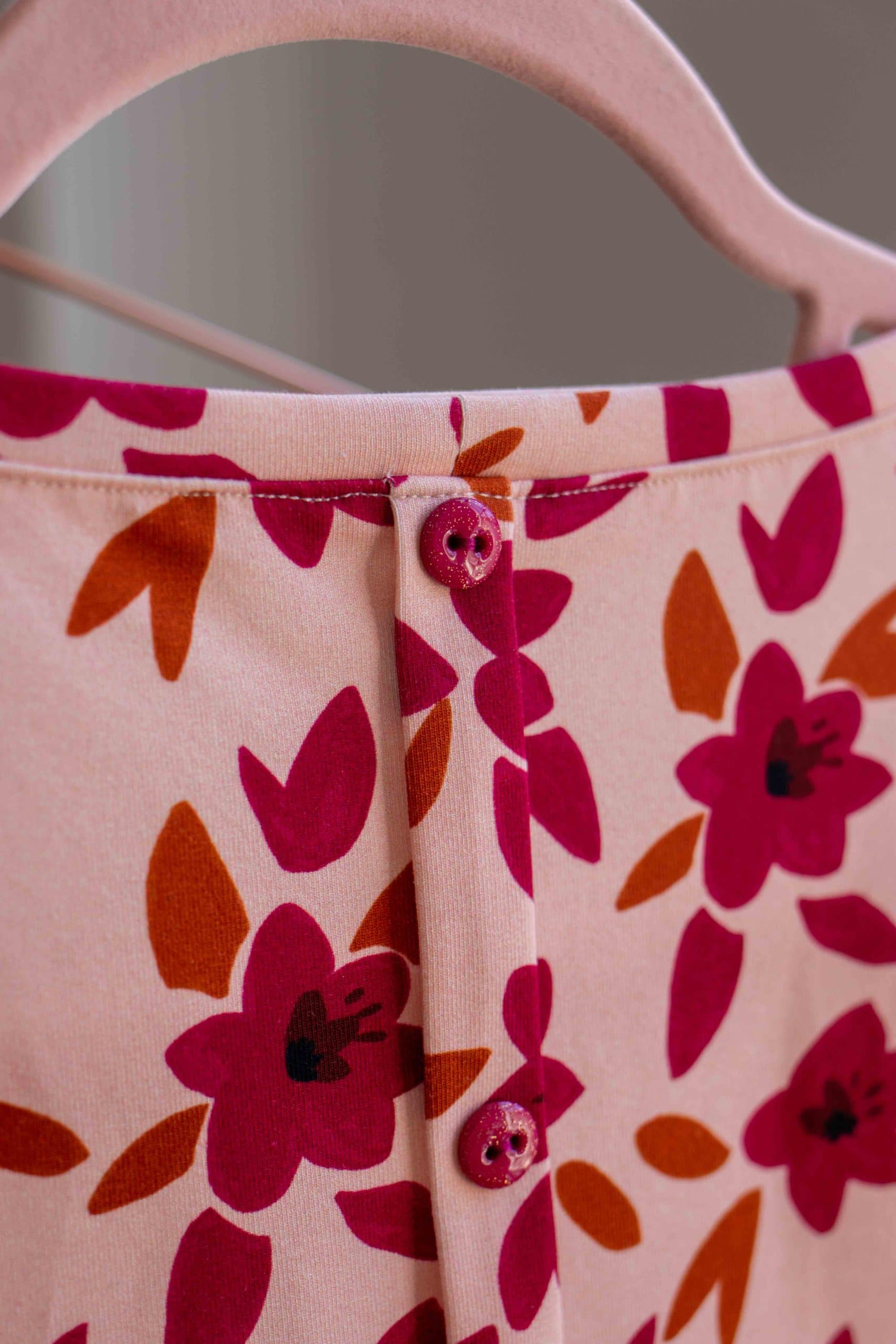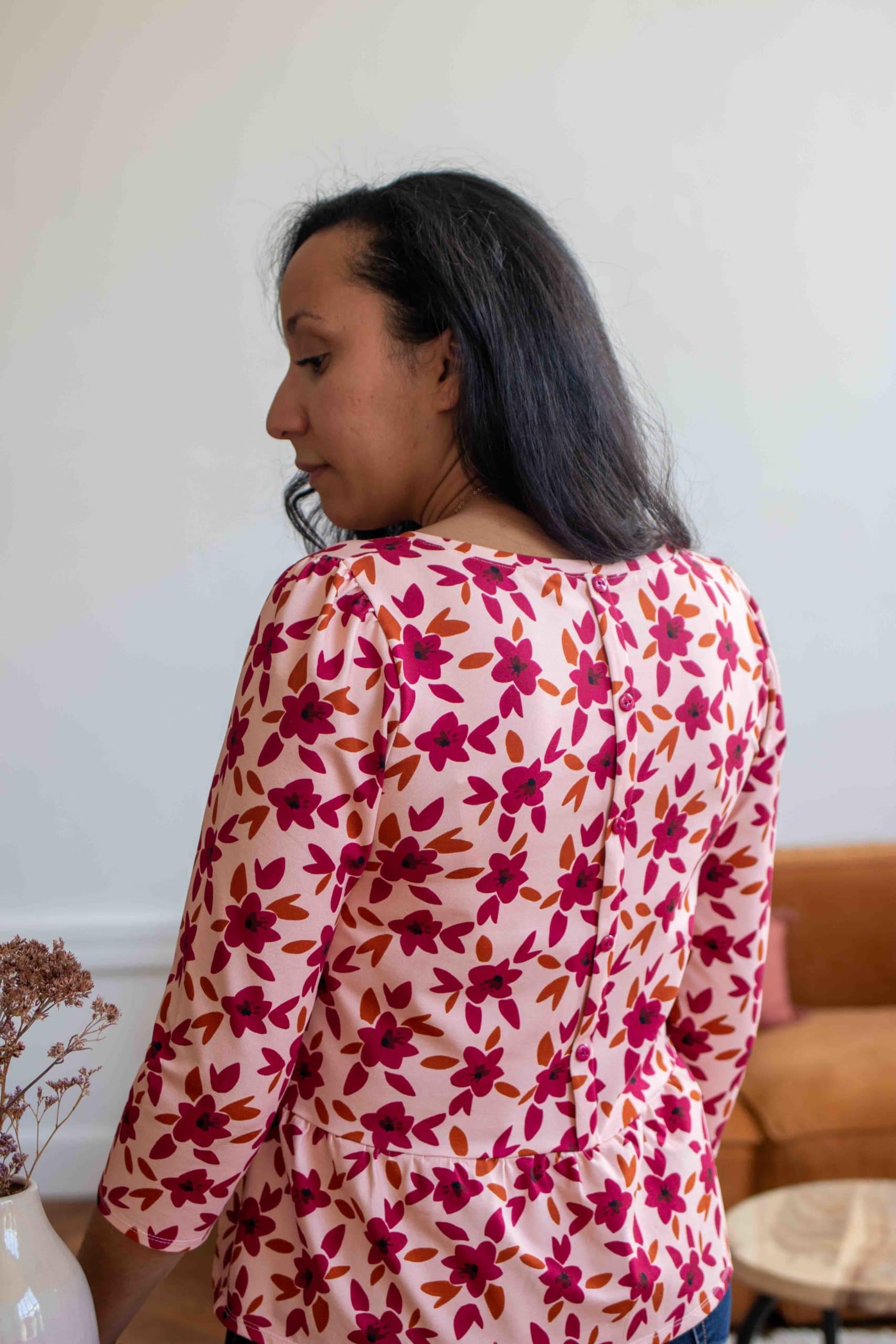 Meet Ditsy - Cotton satin
Ditsy is the perfect combo of a classic pattern and the pleasure to sew an original fabric. An explosion of daisies on a blue base is the key of a timeless style be you project for little girls or women. Let's be natural choosing a blouse, a skirt or a dress, pimp a simple jacket with a pretty contrasting lining.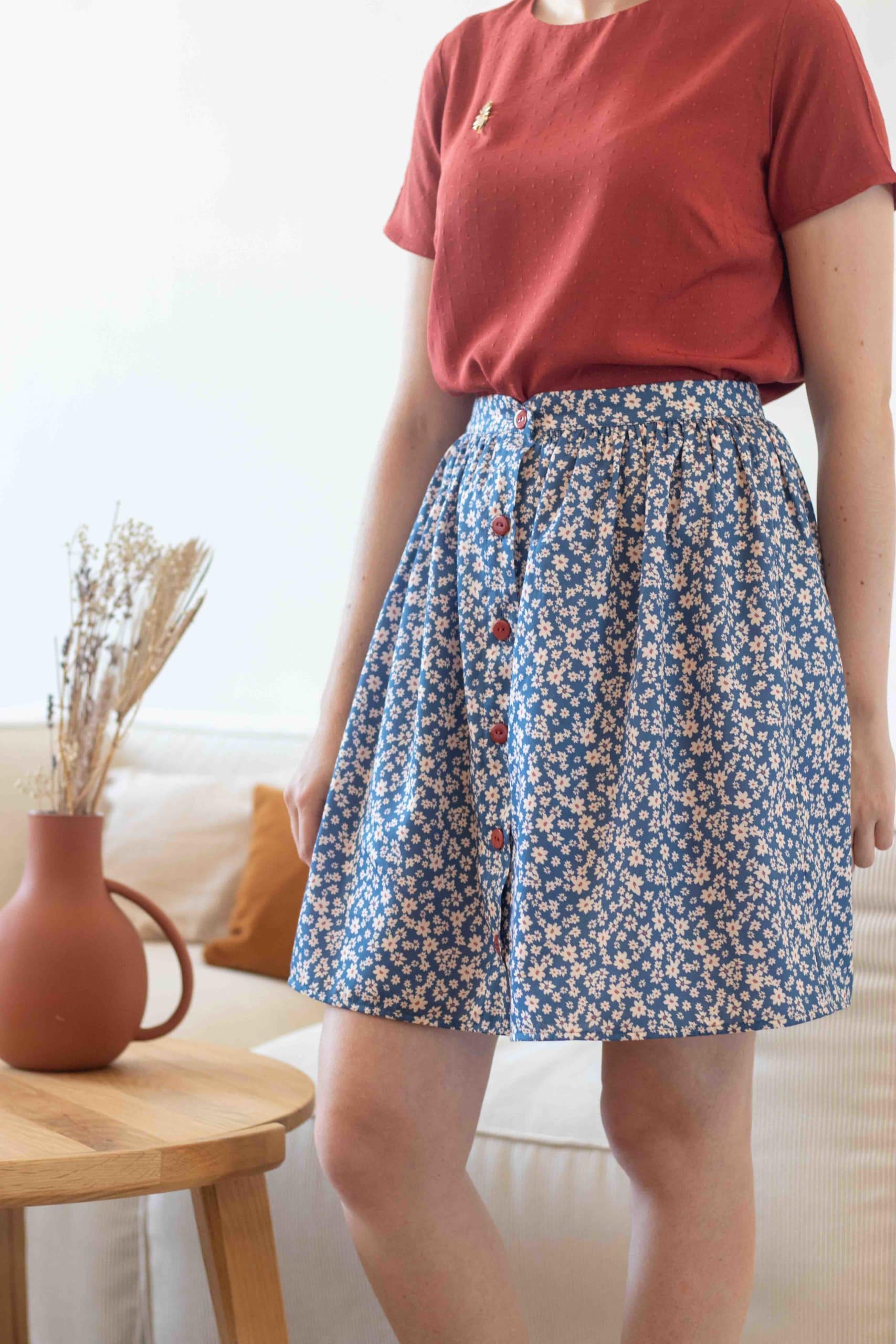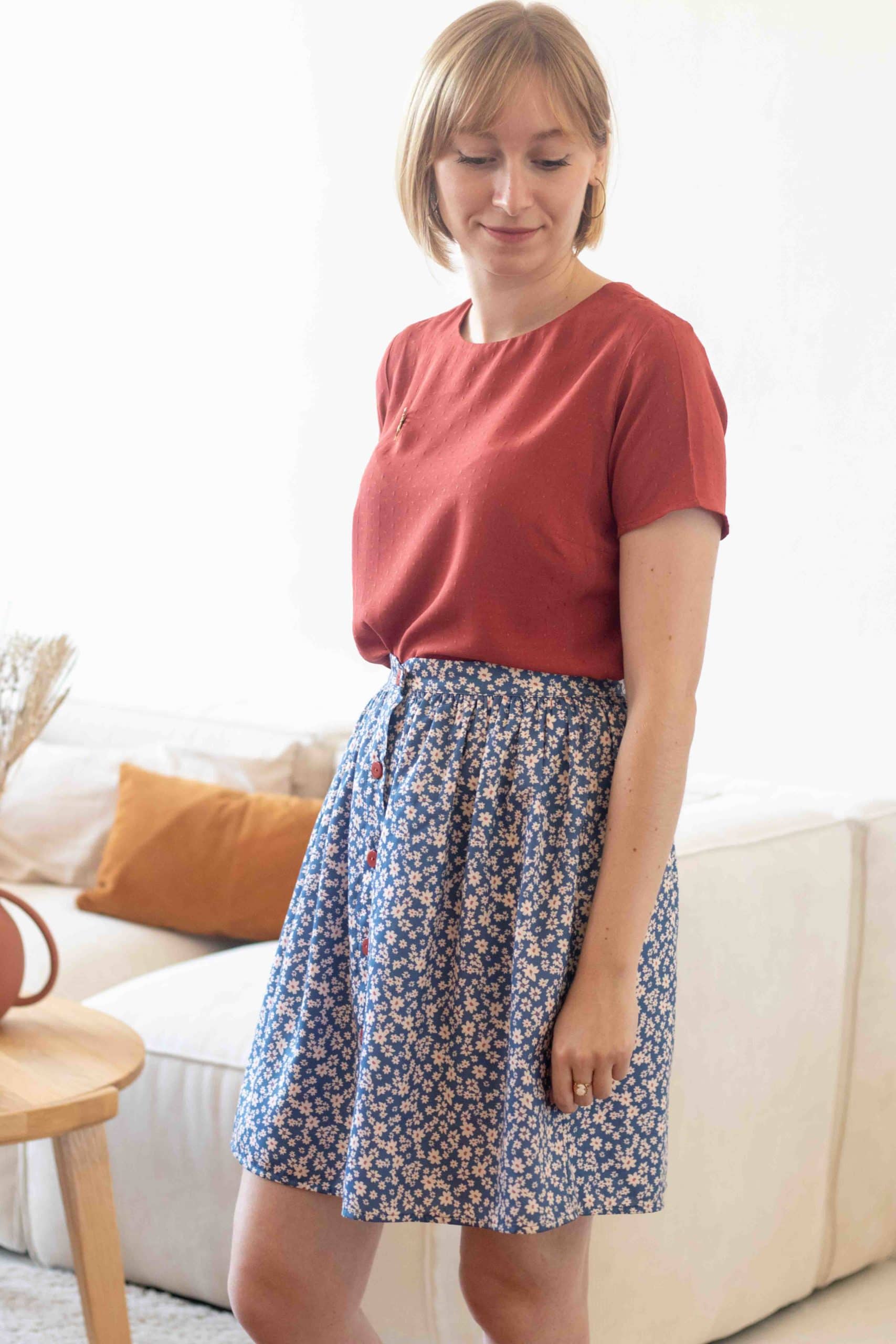 Olga is the choice of Slavic inspired design and colours. With many flowers enhanced with cute details Olga recalls traditional matriochkas paintings. Shades of pink and ochre are associated to a tender green on a cream background that brings lightness. This harmony allows a wide range of creations. With this fabric, strong pieces are allowed (maxi dress, jumpsuit, and nightwear) but clothes to be worn with plain basics (blouse, shirt) are also relevant. Wouldn't a midi skirt be perfect with a camisole to match?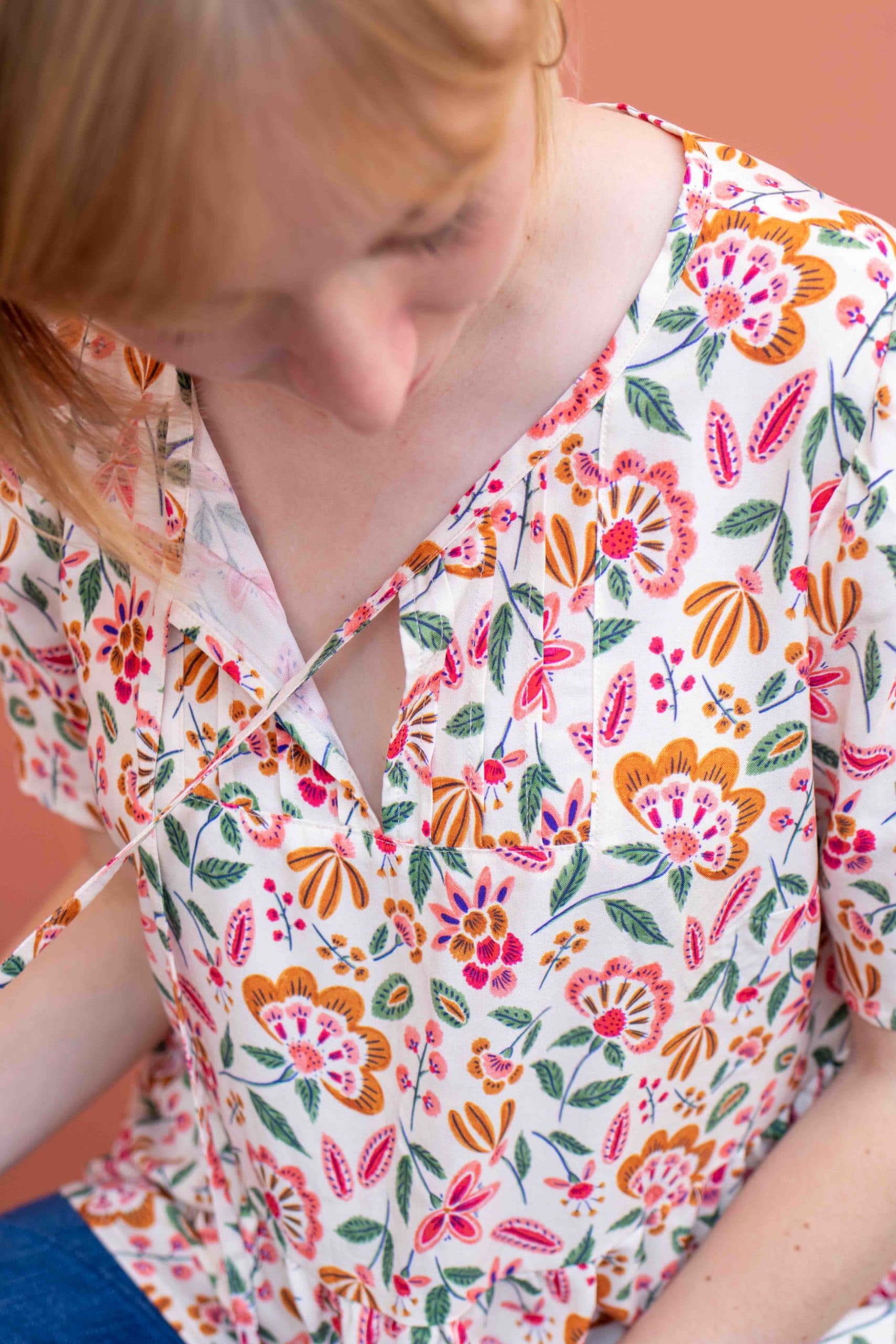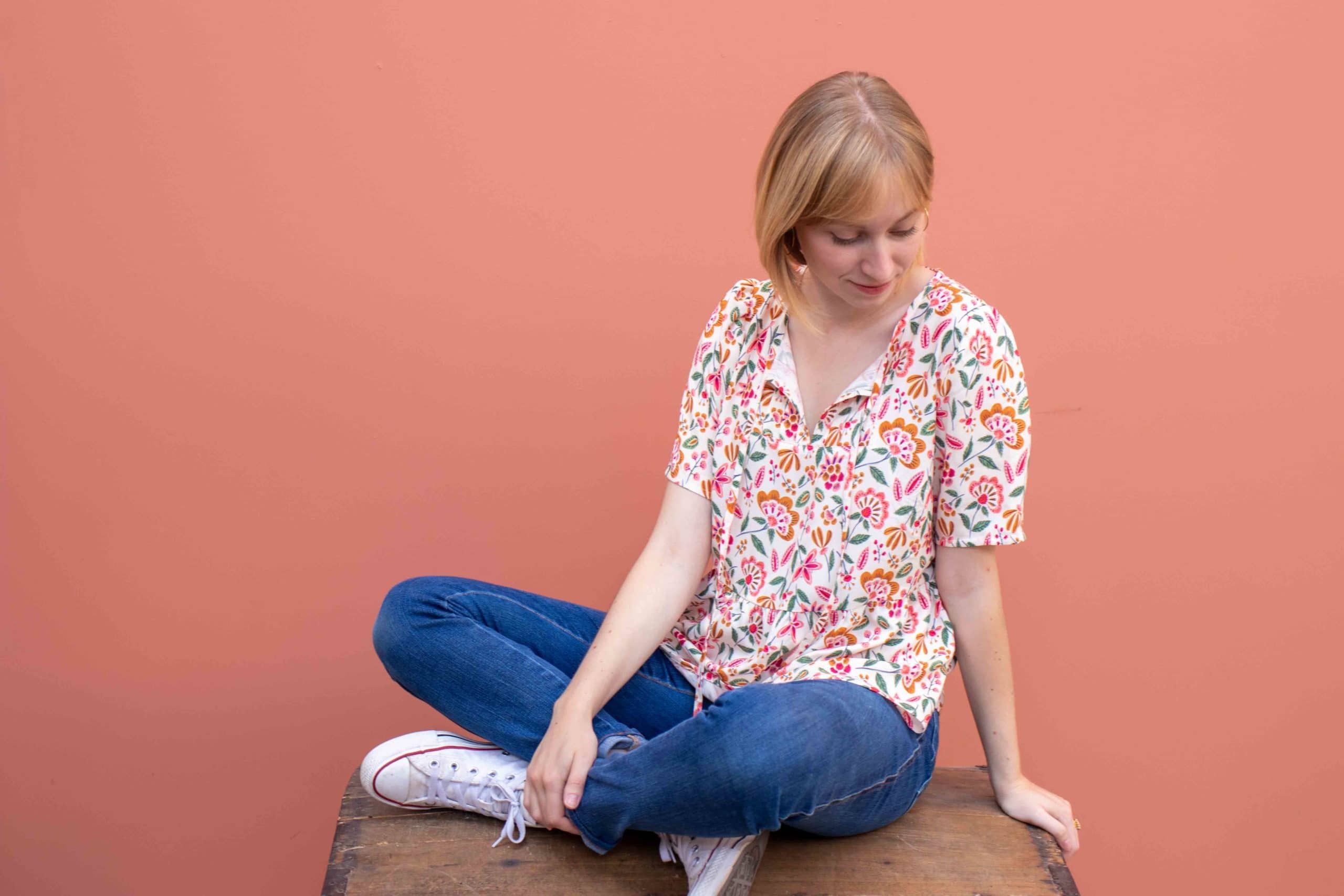 Comète is a soft composition of shooting stars and constellations on a deep blue background.If this fabric will accompany your nights of dreams in a camisole, its uncluttered pattern will suit every type of garment, from the most casual blouse to the most refined dress.
This motif has been specifically designed to go along our dress Comète.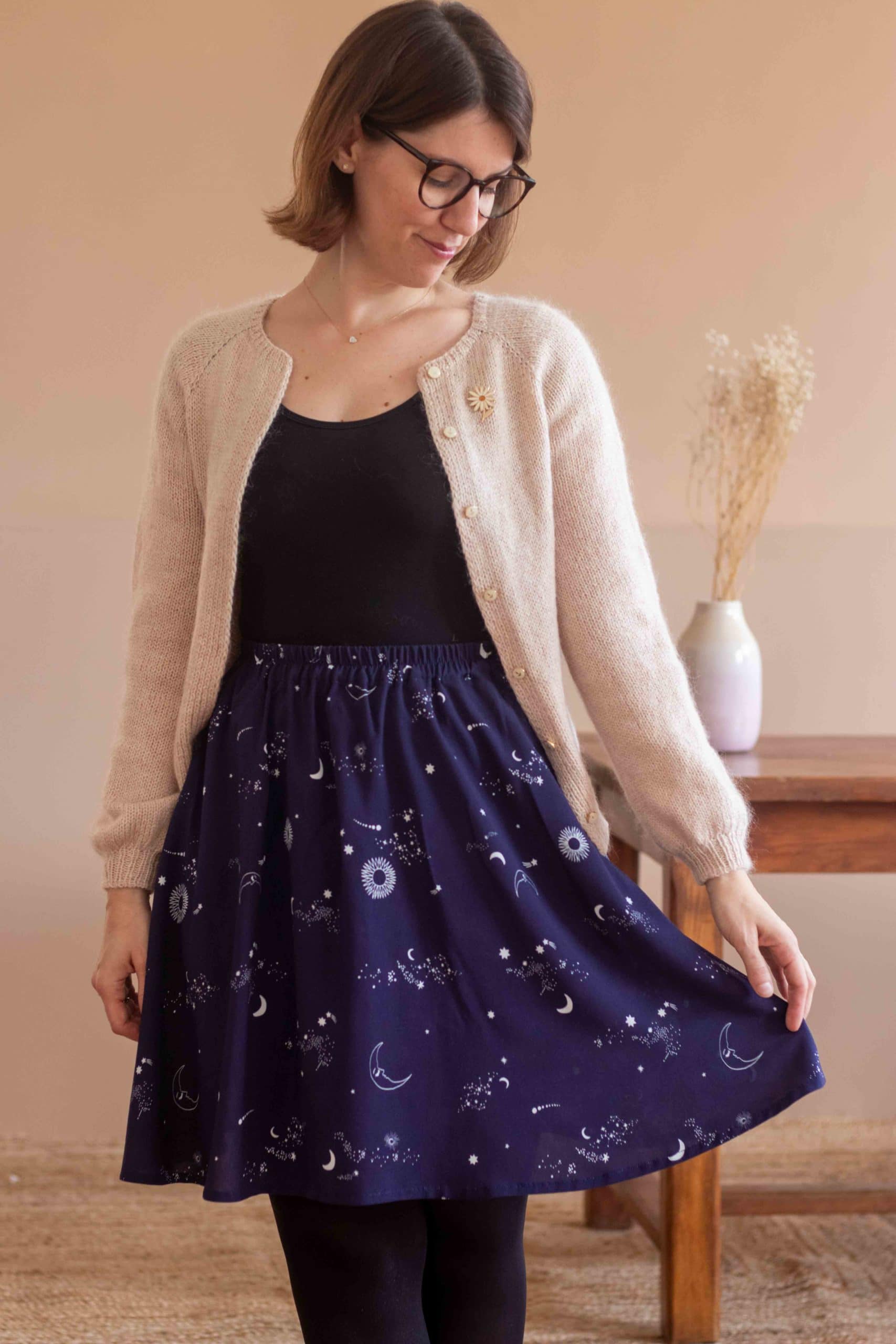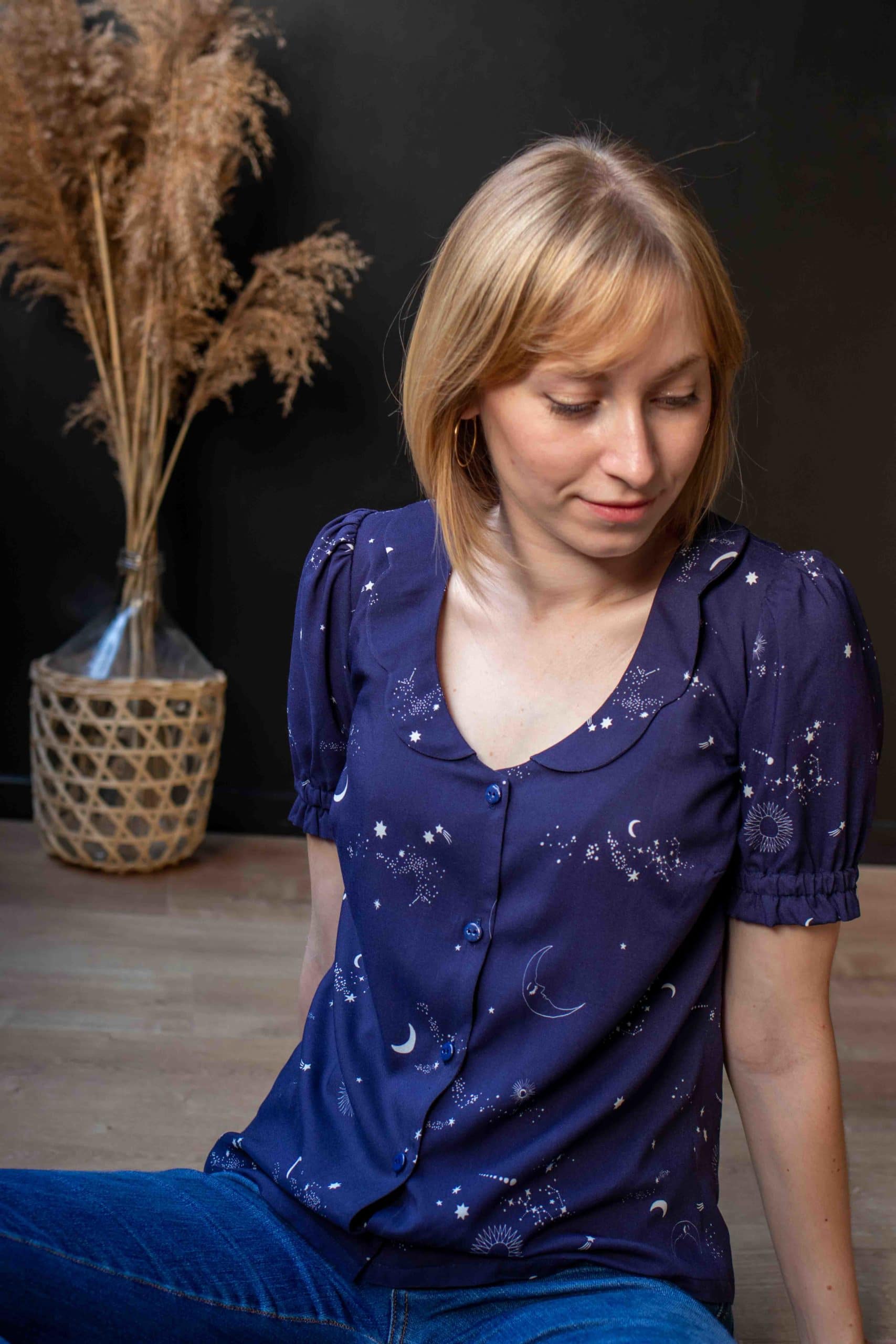 OUR NEW BUTTONS: FEUILLETTE
A new range of buttons
comes to join our collection. Inlayed with a delicate leaf, they will be available in all our colours. Associated to a basic garment or to printed patterns these buttons are the cute detail seamstresses are addicted to. The final touch that gives your creations its whole personality!
A cute pin and needle minder will complete our fall collection.
We sincerely hope that you will like our fall collection and we are looking forward to discover our customers' creations.